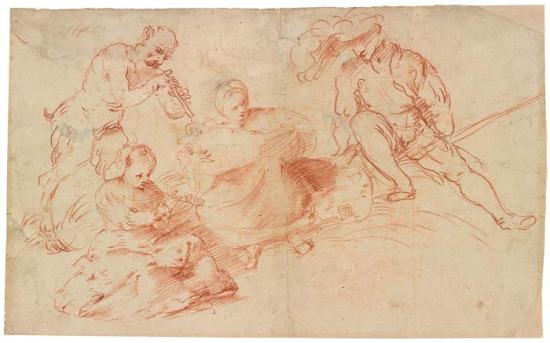 Pastoral Concert with Two Women, a Faun and a Soldier
9 13/16 x 16 1/8 inches (249 x 410 mm.)
Gift of Janos Scholz, 1973
Exhibition label:
To complete his education and attracted by the innovations of Giorgione, Romanino went to Venice, where Albrecht Dürer's Feast of the Rose Garlands and paintings by Giorgione and Titian proved to be a lasting influence on his work.
Following a tradition founded by Titian and Giorgione, the theme of music intermingled with love in a pastoral landscape became popular in northern Italy in the early sixteenth century. This is one of three drawings by Romanino of musical groups with a faun, which are usually associated with frescoes the artist painted in Trent around 1531–32.
Exhibition section:
Landscape and Pastoral
Today Venice evokes images of a picturesque city rising from the sea. Yet sixteenth-century Venetian artists rarely depicted the lagoon or its atmospheric effects. Instead they documented alpine vistas or created fantastical scenes. Landscape was such an important element of fifteenth- and sixteenth-century Venetian painting and drawing that it often dominated even works with mythological or religious subjects. This trend was very much in keeping with the strong interest in the natural world that emerged during the Renaissance, when many artists began to rely on direct observation rather than inherited models. Inspired by the works of the ancient poet Virgil, Venetian humanists extolled the simplicity of pastoral life, and writers, composers, and artists alike embraced Arcadian themes of love, poetry, and music.