Submitted by

Rachel Federman

on Tue, 05/05/2020 - 12:00am
At the end of the first installment of this series on an exhibition in progress, I had discovered, to my horror, that the most robust source available on the subject of an obscure artist named Rick Barton—an essay by Dave Archer (née David Nelson)—had been removed from the Internet.

Thankfully, the link to Archer's 2002 text was preserved in my bookmarks. I was able to recover a snapshot of the essay by plugging the address into the Wayback Machine on the Internet Archive. Many of the illustrations had dropped off, but some, including wonderfully descriptive ink portraits of Barton by Archer and Harold LaVigne, remained. The text, including detailed image captions—at over 1,100 words, one is an essay in its own right—was intact.

In the meantime, artist Bill Anthony, who had donated Barton's Rooms to the Morgan, produced from his archives a second portfolio of prints, San Francisco Churches, together with three loose prints and—most remarkable—an ink drawing, La Reina de Mexico, which was titled, signed, and dated September 4, 1960. Anthony had purchased these objects from Henry Evans's Porpoise Bookshop in San Francisco in the early 1960s, and offered them to the Morgan as gifts. The drawing is mesmerizing, a mass of lines that coalesce into a hallucinogenic image of a crowded church interior. Taken together with San Francisco Churches, it made clear to me that Barton was fascinated not only by church architecture, but also by the spiritual experience of the space. In La Reina de Mexico, the artist is part of the throng of pilgrims, not a detached onlooker.
Rick Barton, plate 4 from San Francisco Churches. San Francisco: The Porpoise Bookshop, 1959. The Morgan Library & Museum; gift of William and Norma Anthony, 2017.335.
Rick Barton, La Reina de Mexico, 1960, pen and ink on paper, 13 3/8 x 10 inches (34 x 25.4 cm). The Morgan Library & Museum; gift of William and Norma Anthony, 2017.278.
I had found several more of Barton's portfolios—all printed by Henry Evans's Peregrine Press under the Porpoise Bookshop imprint—at the New York Public Library. But what about drawings or paintings? I couldn't seem to find his work in museum collections, not even in California-centric collections like that of the Oakland Museum. My research in the past has often focused on artists from California, and one of my go-to resources is the Online Archive of California, a searchable database of archival repositories throughout the state. I found some promising leads: Evans's Peregrine Press papers, which include a complete inventory of publications, are housed at the William Andrews Clark Memorial Library at the University of California, Los Angeles; there was some correspondence listed in the finding aid for the Auerhahn Press papers at the University of California, Berkeley's Bancroft Library. But it was this listing, in the finding aid for the Works on Paper Collection of UCLA Library Special Collections, that made my jaw drop: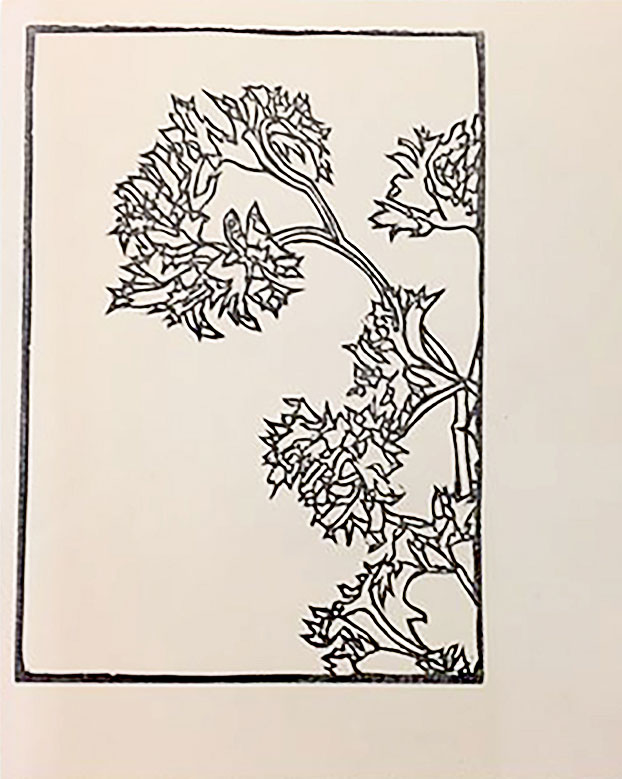 Rick Barton, French Parsley, 1961, linoleum block print, 8 3/4 x 6 3/4 inches (22.2 x 17.1 cm). The Morgan Library & Museum; gift of William and Norma Anthony, 2017.336.
Rick Barton, Sweet Basil, 1961, linoleum block print, 8 1/8 x 6 3/8 inches (20.6 x 16.2 cm). The Morgan Library & Museum; gift of William and Norma Anthony, 2017.337.
Creator/Collector: Barton, Rick
7 packages, 1 box, 757 items. Original pen and ink drawings.

This, I thought, was the mother lode.

I was told by staff at UCLA Library that the collection had not been digitized. It would be months before I could travel to California to see the work. Fascinated by what I had learned about Barton, and gobsmacked at the prospect of viewing over seven hundred of his drawings, I started to wonder if a larger project might be at hand, though I wasn't yet sure what form it might take. I decided that when I had some time, I would research other artists associated with the San Francisco Bay Area's small presses during the Beat and hippie eras.
One such artist is Robert LaVigne (1928–2014), who was closely affiliated with the Beat poets and worked with the legendary Auerhahn Press. His papers are housed—conveniently for me—at Columbia University. I was on a fishing mission, not sure what I was looking for, when I visited the Rare Book and Manuscript Library at Columbia. There were elegant, spare contour drawings of Peter Orlovsky from 1954, one of Jack Kerouac from 1956. And then there was this passage in a letter from Orlovsky to LaVigne, dated July 19, 1958:

You remember that fellow who off & on would show up in Forsters [sic], painter, was in mad houses a lot, in LA. Barton was his name? Hes here now, meet him in Village one day, he's got a gallary [sic], small triangular whare [sic] he lives in the back. Ment [sic] to go see him but havent yet. […]

When I see Barton I'll tell you how he is and will send you his address in case you want to ask him about NYC.
Even now, knowing all that I do about Barton, I still can't account for his having been in New York in 1958. But the rest of the details are close enough for me to surmise that Orlovsky was, in fact, talking about Rick Barton.
Columbia's Rare Book and Manuscript Library also houses a copy of Patricia Evans's A Modern Herbal, with illustrations by Rick Barton. Like Barton's other linoleum block prints, it was published by Porpoise Bookshop. Paging through the book that day, I found two of the Ellsworth Kelly–like prints Bill Anthony had given us, French Parsley and Sweet Basil. Once again, I felt I was being drawn into the orbit of Rick Barton.
Rachel Federman
Associate Curator
Modern and Contemporary Drawings