Submitted by

Carolyn Vega

on Wed, 01/26/2011 - 10:51am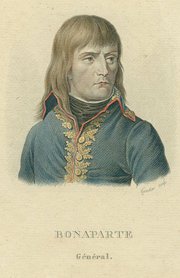 Napoleon and Josephine were married in March, 1796, just days before he departed to take charge of the French army in Italy. In love with his new wife, Napoleon sent her passionate letters and begged her to join him. Josephine, however, preferred to continue her fashionable life in Paris, and to this end she confided to Murat, Napoleon's confidante, that she was pregnant.
Murat of course sent word to Italy. Napoleon was thrilled with the news, and he immediately wrote this letter to Josephine. He spends two full pages lamenting that he is not with her, musing that her "little belly" would make her interesting, and anxiously inquiring after her health and well being. Recalling that her previous letters have been "depressing," he begs her to amuse herself however she can -- even noting that although it would make him jealous, he would rather that she take a lover than remain melancholy in her pregnancy.
Perhaps Josephine was mistaken, or perhaps this pregnancy was a ruse, but she never bore Napoleon a child -- and this was the basis for their divorce in 1809.
For more information about this letter, click here.
The Leon Levy Foundation is generously underwriting a major project to upgrade catalog records for the Morgan's collection of literary and historical manuscripts. The project is the most substantive effort to date to improve primary research information on a portion of this large and highly important collection.