Submitted by

Declan Kiely

on Tue, 07/04/2017 - 10:30am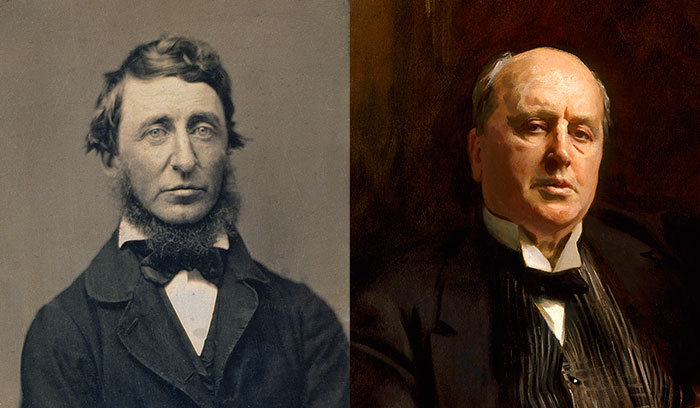 Celebrating the July 4th holiday in New Hampshire, I was reminded of Henry James's sojourn in the White Mountains in the summer of 1865. In his Notes of a Son and Brother, published almost fifty years after that memorable visit, he would recall it as a "splendid American summer," spent in the company of his witty and gregarious cousin Minny Temple and her sisters, and his close friend Oliver Wendell Holmes. 
 As James prepared for his journey to North Conway, New Hampshire, he had Henry David Thoreau on his mind. Thoreau's Letters to Various Persons, edited by Emerson, had just been published and James, who had three unsigned essays in the July issue of the North American Review, wrote in haste to ask Charles Eliot Norton, one of the Review's editors:
"Would the N.A.R. like a notice of Thoreau's Letters fr[om] an outside, i.e. an extra-Concord point of view? Unless some such view is taken, I fear the lesson of the book will be lost. I will be glad to take it, if you so desire, according to my lights. I should also be well pleased to have you suggest any other book for criticism. As I start tomorrow for the Wh. Mts., will you be so good as to address me, at your leisure, North-Conway, N.H.?" In a P.S. to this letter he wrote: "I importune you thus early, lest some Thoreau-ite should be before me. Only remember my offer & answer at yr. perfect convenience."
James was not offered Thoreau's letters to review—instead, that opportunity was seized by James Russell Lowell, the journal's other editor and definitely no "Thoreau-ite," who published an excoriating critique in its October 1865 issue. Lowell's influential essay seriously damaged Thoreau's literary reputation for decades after its publication. Among other sins, he accused Thoreau of "the narrowest provincialism." We can find traces—perhaps even a verbal echo—of Lowell's review in Henry James's own subsequent critical estimation of Thoreau. In his biography of Nathaniel Hawthorne, published in 1879, James digressed from his primary subject to say this about Thoreau: "Henry Thoreau, a delightful writer, went to live in the woods; but Henry Thoreau was essentially a sylvan personage and would not have been, however the fashion of his time might have turned, a man about town."
The term "sylvan personage" is amusing enough—by 1879, James had settled in London and was himself very much "a man about town." But James's pen then sharpens with this Lowell-inflected dismissal: "Whatever question there may be of his [Thoreau's] talent, there can be none, I think, of his genius. It was a slim and crooked one; but it was eminently personal. He was imperfect, unfinished, inartistic; he was worse than provincial — he was parochial; it is only at his best that he is readable." This is unusually harsh for James, and one wonders if he, rather than Lowell, had reviewed Thoreau's letters in the summer of 1865, things might have turned out differently, in the short term, for Thoreau's reputation. In the long term, of course, Thoreau has totally eclipsed Lowell and he stands, if not shoulder to should with James, at least resplendently on view this summer in This Ever New Self: Thoreau and His Journal alongside Henry James and American Painting. Both exhibitions make for "a splendid American summer" at the Morgan for those interested in two very different giants of American literature.
John Singer Sargent (1856–1925), Henry James, 1913, Oil on canvas. National Portrait Gallery, London; Bequeathed by Henry James, 1916. NPG 1767​.
Benjamin D. Maxham (1821–1889), Henry David Thoreau, 1856, daguerreotype. National Portrait Gallery, Smithsonian Institution; gift of an anonymous donor.