Submitted by

Yona Benjamin

on Thu, 10/03/2019 - 12:04pm
The Morgan's Exhibitions on Verdi and Sendak as Explorations of Collaboration and Creativity
One might consider the Morgan's current exhibitions Verdi: Creating Otello and Falstaff—Highlights from the Ricordi Archive and Drawing the Curtain: Maurice Sendak's Designs for Opera and Ballet to have little in common, save for a shared connection to opera. But in fact, there is much linking these two exhibitions, which explore similar themes of artistic resurgence and the power of collaboration and adaptation.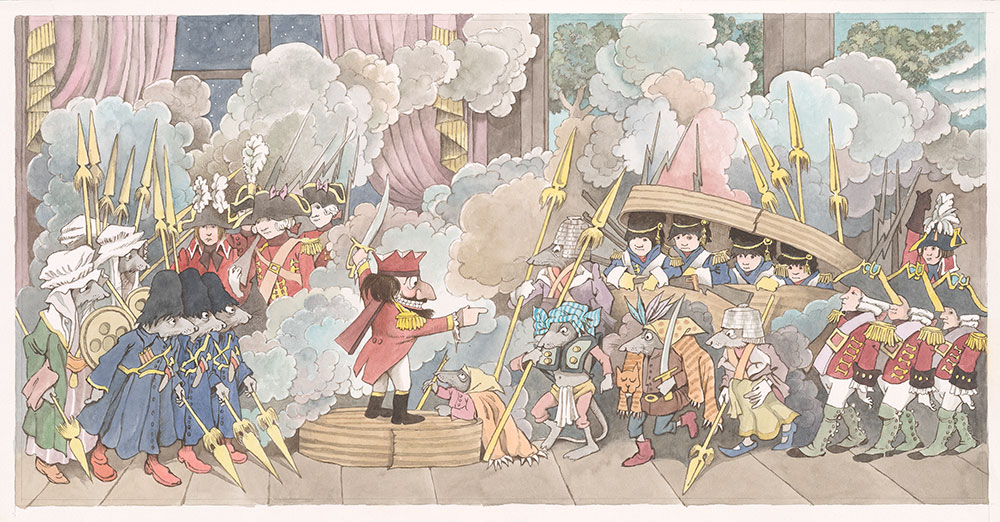 Maurice Sendak (1928-2012), Design for battle scene, Act I (Nutcracker), 1982-1983, gouache and graphite pencil on paper. © The Maurice Sendak Foundation. The Morgan Library & Museum, Bequest of Maurice Sendak, 2013.107:262.
In both exhibitions, the works on view represent a sort of reinvention of the artists' careers. For Giuseppe Verdi, it was a return to opera after over a decade in retirement, resulting in arguably his two greatest masterpieces. For Maurice Sendak, it was a pivoting away from children's book authorship to a new medium of creativity: set and stage design for opera and ballet.

These career rejuvenations were not solo acts, but rather paradigm cases in collaboration, and the Morgan exhibitions explore these partnerships and their fruits at length. Verdi was coaxed out of retirement and helped in the creative process by his manager Giulio Ricordi, and he was inspired and brought to new heights by his new, younger librettist partner Arrigo Boito. Boito had criticized Verdi's generation in the past, and so this association can be seen as a moment of moving forward for both figures. Sendak, too, arrived at this new phase in his creative life by way of a collaborator, opera great and eventual close friend, Frank Corsaro. This alliance became a mainstay of Sendak's work for the stage.
Further, both of these artists incorporated their love of literature and admiration for other artists in their oeuvres—Verdi in adapting Shakespeare's characters Falstaff and Othello, and Sendak in paying homage and alluding to figures like Mozart, Blake, and Tiepolo. The exhibitions at the Morgan illuminate these complex and intertwined creative legacies.

It is these themes that make these exhibitions so powerful and relevant. The Morgan looks beyond the works to the labor behind them, in order to show us that the lives of great artists are not defined by constant triumph, and great works are not created in a vacuum. Art and the life of the artist, through the eyes of these exhibitions, are collaborative, ongoing, and oftentimes fraught processes. Things change, things fall apart, things are rebuilt. Critically, it is collaboration and adaptation—the vulnerable acceptance that an artist cannot do it all alone—that allows for masterpieces to come into the world.
Falstaff: A Square; On the Right, the exterior of the Garter Inn, act 3, sc 1, Set design by Adolf Hohenstein (1854–1928), Teatro alla Scala, 1893, Archivio Storico Ricordi, Milan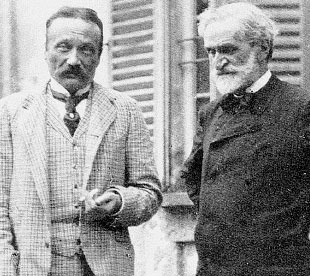 These radical, perspective-shifting ideas are masterfully woven into the fabric of these stunning exhibitions at the Morgan Library & Museum, which bring to life the worlds of Verdi and Sendak through letters, sketches, media clippings, and more. Come see them while you can.
Achille Ferrario, Arrigo Boito (librettista d'Otello) e Giuseppe Verdi, 1892, Gazzetta di Parma.
Yona Benjamin
Columbia University Class of 2020
Communications and Marketing Department