Submitted by

Carolyn Vega

on Fri, 10/01/2010 - 3:22pm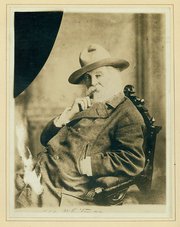 Leaves of Grass has been described as "shocking," "too sensual," and "trashy, profane and obscene." Yale University President Noah Porter compared it to "walking naked through the streets," and an early British reviewer suggested that one "throw it immediately behind the fire." First published in 1855, it was effectively banned in Boston nearly 30 years later, when district attorney Oliver Stevens demanded that some poems (such as "Song of Myself," "I Sing the Body Electric," and "To a Common Prostitute") be removed because of their pornographic nature. Whitman refused to alter his work and was forced to find a new publisher. When he did, the first printing of the new edition sold out in a single day.
Shown here is a page from an undated and apparently unpublished preface that was intended for a British edition of Leaves of Grass. Whitman introduces the volume by acknowledging that "at first sight, the form of these verses, not only without rhyme, but wholly regardless of the customary verbal melody & regularity so much labored after by modern poets, will strike the reader with incredulous amazement." He states later that "it is not without passages that will puzzle, cause hesitation, & even shock."
For more information about this item, click here.
The Leon Levy Foundation is generously underwriting a major project to upgrade catalog records for the Morgan's collection of literary and historical manuscripts. The project is the most substantive effort to date to improve primary research information on a portion of this large and highly important collection.