Submitted by

Carolyn Vega

on Thu, 09/29/2011 - 2:37pm
This little book is something of a mystery. The fifty-eight pages are sewn in a single gathering and bound with a sheet of old vellum, which is now partially discolored from use. From this first opening (shown below), we know that it was completed by the priest Aegidius (or Gilles) Duchemin in 1740.
The book is mostly filled with calligraphic exercises in French and Latin, but it opens with a few pages of illustrations. Here, along with a rather pink-lipped John the Baptist, we have a couple of waterfowl, a cat, two pretty human-looking rabbits, "le loup tenant le brebis" and, at the lower right, what's purported to be a fox but looks to me more like a lamb floating in the grass.
The illustrations are followed by several alphabets, beginning with these large decorated initials, each of which opens a Bible verse.
The decorated initials are followed by exercises in other scripts. Notice the long "s" (which looks like an uncrossed "f") and the ligatures on the bottom line of this alphabet.
This alphabet penned in a batarde script is difficult to read, especially because of the ghosting effect created by the ink on the other side of the pages, but the elaborate "f" in the upper right hand corner is easy to pick out:
The final exercise is a series of numbers, which, like the rest of the the manuscript, has been penned will iron gall ink. Look closely at the "3" and the "5" -- here, the acidity of the ink has eaten clearly through the paper, and the apparently uncolored portion of the numbers is actually the page below.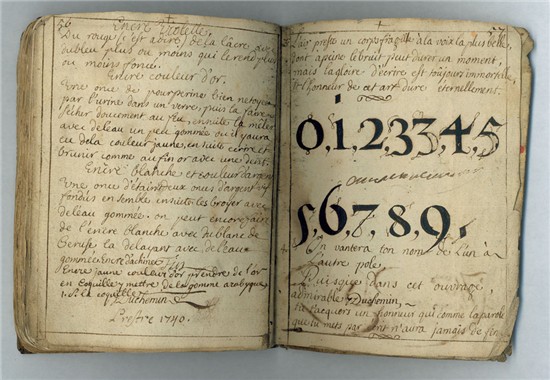 Duchemin has written his name at the foot of nearly every page, but besides his name and the fact that he was probably ordained in 1740, we don't know anything about the man or where he came from. One page is strangely dated 1733, but the handwriting remains fairly consistent throughout the manuscript, and it doesn't have the feel of something that was worked on for seven years. Do you happen to know anything about our Duchemin?
For more information about this manuscript, click here.
The Leon Levy Foundation is generously underwriting a major project to upgrade catalog records for the Morgan's collection of literary and historical manuscripts. The project is the most substantive effort to date to improve primary research information on a portion of this large and highly important collection.