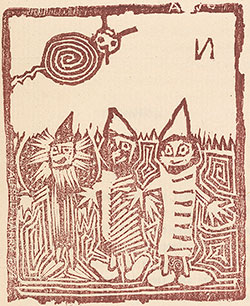 This program has been cancelled. We will be in contact if we are able to reschedule the program at a later date. Please contact tickets@themorgan.org with any questions.
Organized in conjunction with the exhibition Alfred Jarry: The Carnival of Being, this day-long symposium brings together an international group of scholars and cultural figures in tribute to the French writer-provocateur and his philosophy of pataphysics. Speakers will address Jarry's career in theater and puppetry, literature, politics, graphic art, as well as the legacy of pataphysics in counterculture and its potential applications to the present and future. Participants include:
Alfred Jarry, "literary puppeteer"
Jill Fell, Birkbeck, University of London
Jarry's Visual Worlds: Histories and Imaginings
Jennifer Johnson, St. John's College, Oxford
 Jarry against the World: Pataphysics and Rebellion
Julien Schuh, Université Paris Nanterre
"It can't happen here" 
Xavier Filliol, digital music pioneer, producer, online media expert
Pataphysics of the Future 
Linda Stillman, independent scholar, collector
The exhibition Alfred Jarry: The Carnival of Being will be available for program attendees.
Saturday, April 25, 2020, 11 AM – 5:30 PM
Public programs for Jean-Jacques Lequeu: Visionary Architect. Drawings from the Bibliothèque nationale de France and Alfred Jarry: The Carnival of Being are presented in cooperation with La Maison Française of New York University.