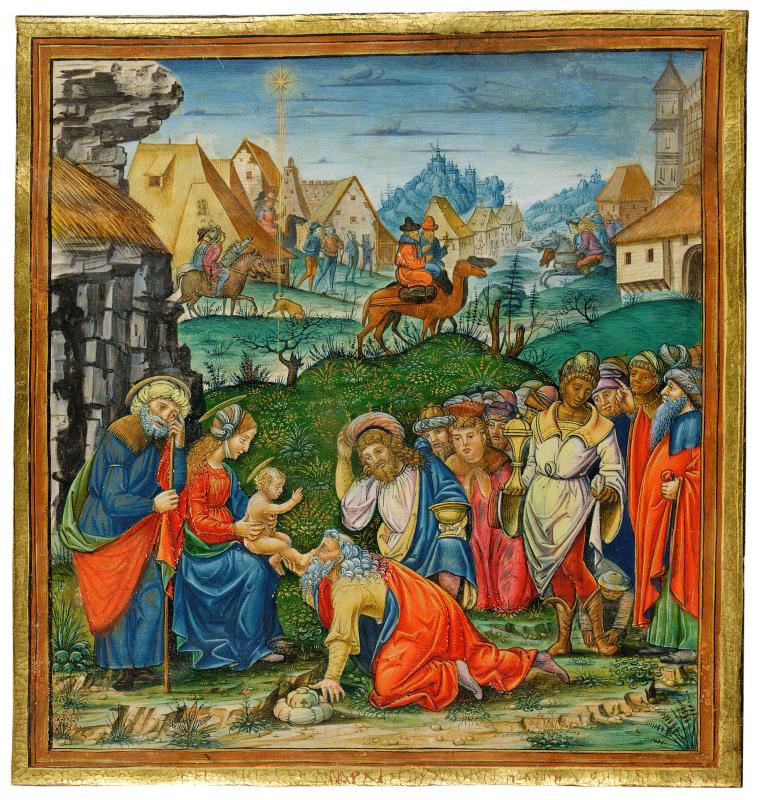 Description:
1 leaf, matted : vellum, ill. ; 220 x 208 mm
Provenance:
Olivetan monastery of SS. Michele e Niccolò at Villanova-Sillaro (near Lodi); William Young Ottley (1771-1836); his sale (London, Sotheby's, May 11, 1838, possibly lot 85); Robert S. Holford (1808-1892); Sir George Holford (1860-1926); his sale (London, Sotheby's, July 12, 1927, lot 29); purchased at this sale for the Pierpont Morgan Library.
Notes:
Ms. single leaf (cutting) from a gradual; written and illuminated in Milan, Italy, ca. 1500.
Text: on back of miniature is the introit from Epiphany: et potestas et impe(rium) / ps. Deus iudi(cium) / (tu)um regida. et justi(tium).
Musical notation: 4-line staves in red ink, square notes.
Decoration: 1 miniature with the Adoration of the Magi; background of German houses in the miniature are derived from Albrect Dürer's engraving of the Prodigal Son; the castle on the hilltop is derived from his engraving of the Sea Monster.
M.725, cut from a gradual, and M.1090, cut from an antiphonary, probably come from the same set of choir books commissioned for the Olivetan monastery of SS Michele e Niccolò at Vilanova-Silaro (near Lodi).
Artist: Master B.F., sometimes identified as Francesco Binasco.
Master B. F. might be the Lombard illuminator Francesco Binasco, although this remains to be proven. If not the same, both were interested in engraving: Binasco worked as an engraver for the mint of Milan, and B. F. was evidently fond of engravings. The group of houses in the background of the miniature, for instance, derives from Albrecht Dürer's engraving of the Prodigal Son (ca. 1496). The motif of the servant removing the spurs of the youngest Magus may derive from Gentile da Fabriano's famous altarpiece of 1423 in the Uffizi.
The miniature came from a Gradual, as the verso contains part of the Introit to the Mass for the Epiphanyi. The leaf was lot 85 in the landmark Ottley sale held at Sotheby's in 1838. According to the catalogue, it was from the monastery of Certosa at Pavia.