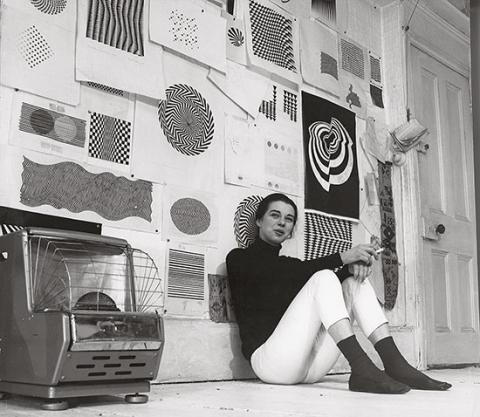 British artist Bridget Riley (b. 1931) is one of the most celebrated abstract painters of her generation. For over sixty years, she has created compositions that both challenge and delight the senses. In the 1960s she became closely associated with Op art, a movement defined by geometric painting and sculpture that produce pronounced optical effects. While Op art is often linked with modern science and technology, Riley's influences are as disparate as ancient Egyptian tomb painting, Venetian Renaissance color palettes, and Post-Impressionism. This exhibition—the first dedicated exclusively to her drawings in over fifty years—provides an intimate view of Riley's studio practice, in which the making of studies plays a central role.
Riley's close connection to drawing stretches back to her student days at Goldsmiths College, London, where she pursued drawing to the exclusion of other mediums. Her devotion to the tenets of academic draftsmanship was, unexpectedly, essential to the development of her groundbreaking abstract art of the early 1960s and beyond. Featuring more than seventy-five works retained by the artist in her studio, Bridget Riley Drawings spans over seven decades and illuminates her unceasing commitment to paper, pencil, ink, and gouache as tools of exploration and innovation.
---
Bridget Riley Drawings: From the Artist's Studio is co-organized by the Morgan Library & Museum, the Art Institute of Chicago, and the Hammer Museum, Los Angeles.
The exhibition is made possible in part by generous support from Sophia Hudson, Patricia and Thruston Morton, and Alyce Williams Toonk. Assistance is provided by the Rita Markus Fund for Exhibitions and Andrew Kohler and Michael Koch.