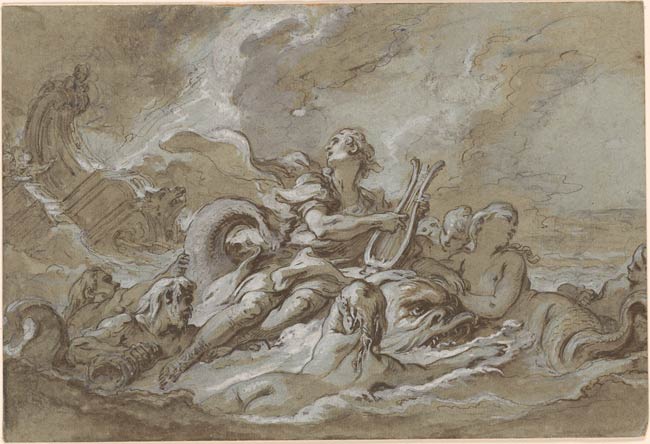 Arion Rescued from Shipwreck by a Dolphin
Pen and brown ink and wash, with white, over black chalk on blue paper; some pentimenti, notably in Arion's head and in the prow of the sinking ship.
7 7/8 x 11 5/8 inches (200 x 295 mm)
Purchased on the Sunny Crawford von Bülow Fund 1978.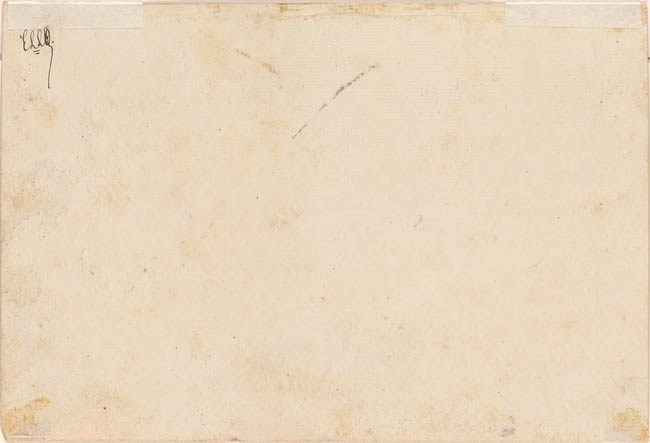 Provenance:
M. de Sireuil, Paris; his sale, Paris, 3 December 1781, lot 88; L. Boulle; sale, London, Christie's, 10 December 1991, lot 204; acquired from Artemis Fine Arts Inc., London.
Bibliography:
Alexandre Ananoff, with the collaboration of Daniel Wildenstein, "François Boucher", 2 vols., Lausanne and Paris, 1976, II, p. 27, fig. 953 (as collection M. de Sireul)
Denison, Cara D. French Master Drawings in the Pierpont Morgan Library. New York : Pierpont Morgan Library, 1993, no. 53, repr.
Denison, Cara D., with Stephanie Wiles and Ruth S. Kraemer. Fantasy and Reality : Drawings from the Sunny Crawford von Bülow Collection. New York : Pierpont Morgan Library, 1995, no. 5, repr. in color.
Notes:
Watermark: none visible through lining.
This drawing is connected to Boucher's painting of the same subject commissioned by the king in 1748 for the château de la Muette, which is now in the Princeton Art Museum, New Jersey.
Associated names:
Sireuil, M. de, former owner.
Boulle, L., former owner.