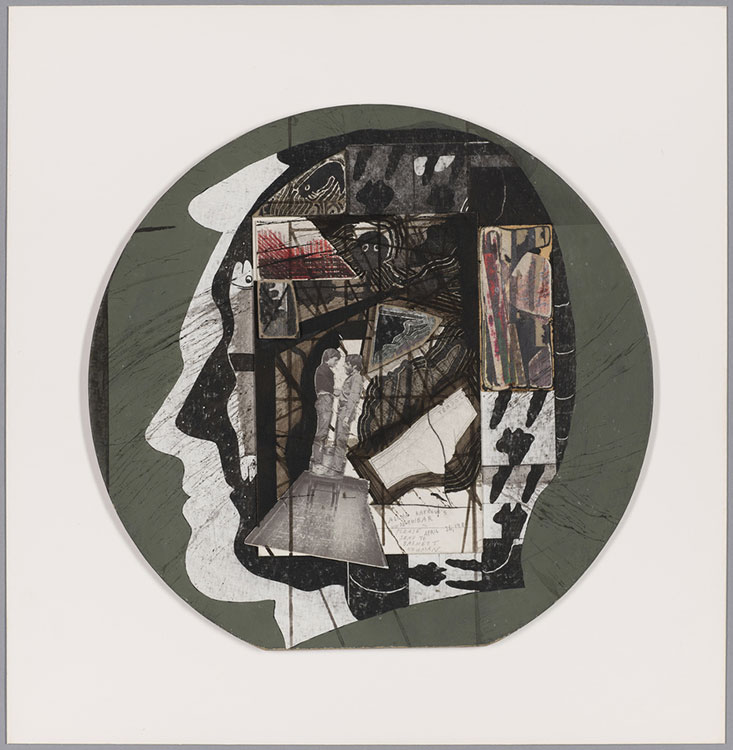 Untitled (Tab Hunter William Burroughs)
Collage on cardboard panel.
12 x 12 1/2 inches (30.48 x 31.75 cm)
Gift of Frances Beatty, Alexander Adler and the Ray Johnson Estate.
Inscription:
Inscribed in pencil on recto: "Allan Kaprow's underwear;" "Please send to Barnett Newman April 26, 1981"
Notes:
Johnson maintained an underground presence while also cultivating an expansive network of collaborators, primarily through his influential New York Correspondance [sic] School of mail art. Traversing the realms of pop and conceptualism, his primary medium was collage. Like Marcel Duchamp before him, he delighted in wordplay and the absurd. Johnson created silhouette portraits of friends, art-world figures, and celebrities, often incorporating them into collages such as this one. Two profiles appear here, those of 1950s movie star Tab Hunter (1931-2018) and avant-garde writer William S. Burroughs (1914-1997). In the 1950s and '60s, Burroughs popularized the "cut-up" technique, a linguistic counterpart to collage. The multiple layers of collage and drawing in this work are emblematic of Johnson's practice, as is the inscription, "Please send to Barnett Newman," referencing his mail art network. However, the Abstract Expressionist painter had died in 1970, eleven years prior to the date given in the inscription.