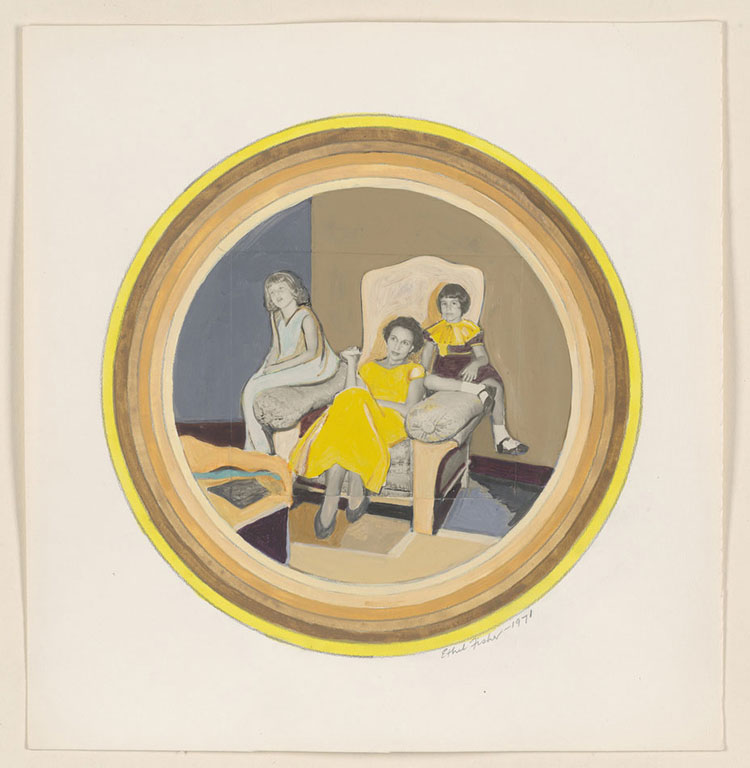 Sandra Fisher, Fay Becker, Judy B 1953 Miami
Acrylic, gelatin silver print, and graphite on Arches paper.
12 x 11.5 inches (30.5 x 29.2 cm)
Gift of the Estate of Ethel Fisher Kott.
Inscription:
Recto: signed and dated, "Ethel Fisher -- 1971"; verso: upper left, "2A"; upper right, "Becker / 'Sandra -- Faye + Judy -- 1953' Miami / acrylic -- photo- pencil / E.F. 8-71 / Sandra Fisher / Faye Becker / Judy Becker (child)"
Notes:
Fisher studied at the Art Students League in the 1940s, where she befriended fellow artists Henry Pearson and Will Barnet. She spent the 1950s in Miami, developing an abstract style of painting inspired by Surrealism and Abstract Expressionism, and exhibited in the U.S. as well as in Havana, Cuba. While living in New York again in the 1960s, she began a transition from abstract to figurative work. The circle collages, which she created between approximately 1966 and 1977, bridge that transition, as well as her move to Los Angeles in 1969. Fisher seems to have adopted a set of limited parameters for this body of work. Each collage is framed by concentric circles of acrylic paint in a restricted palette. Within the circular frame, she usually pasted a photograph of artist-friends or family members, which she painted on and around. This work features a photograph from 1953 of Fisher's older daughter Sandra and close friends of the family, Fay Becker and her daughter Judy. Fisher and her family lived in Miami at the time the photo was taken. Fisher depicted Becker and her daughter in several portrait paintings on canvas as well.