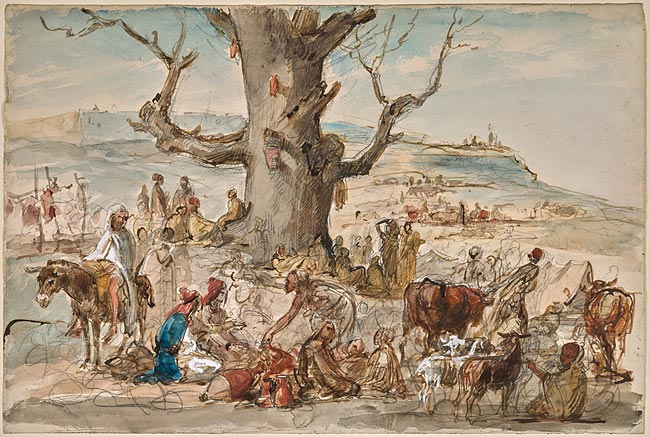 An Encampment in North Africa
Pen and brown ink, watercolor with white opaque watercolor and graphite on wove paper
13 3/4 x 20 1/2 inches (348 x 522 mm)
Gift of Mr. & Mrs. Hamilton Robinson, Jr.
Provenance:
Mr. & Mrs. Hamilton Robinson, Jr.
Notes:
The French occupation and colonization of Algeria began in 1830 and lasted until 1962. Beginning in the 1830s French artists routinely traveled to the country, often as part of government initiatives. Pils journeyed there for study after receiving a commission to depict Napoleon III's 1860 visit to Algeria. Although individuals were reluctant to pose for him, he rendered in quick sketches much of what he observed. This scene of a busy encampment was one of his studies documenting local practices.
Associated names:
Robinson, Hamiliton, Jr. former owner.
Robinson, Hamiliton, Mrs. former owner.