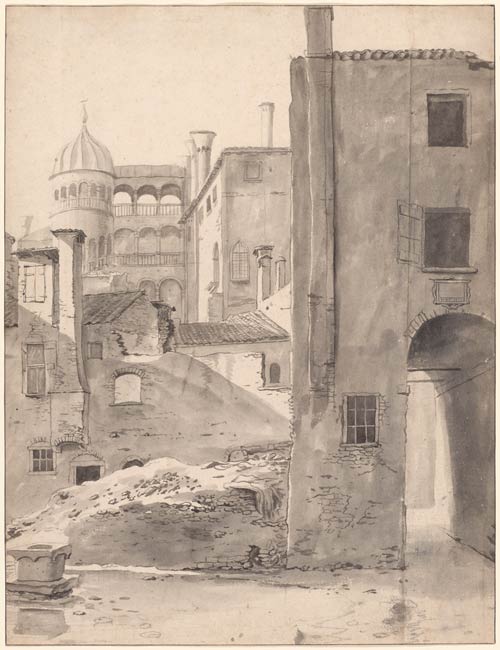 View of the Palazzo Contarini del Bovolo, Venice
Black chalk, brush and black ink and wash, black ink framing, on paper.
14 5/8 x 11 1/4 inches (371 x 286 mm)
Promised gift of the Baymeath Art Trust.
Provenance:
Leendert Dupper Wz (1799-1870); C.J. Roos et al., Dordrecht, 28-29 June 1870, lot 443 ('Th. Wijck. 443. Monument antique, en ruines. A l'encre de Chine'), where purchased for 2 guilders by Carel Vosmaer (1826-1888); possibly Martinus Nijhoff, The Hague, 30 April 1890, part of one of the group lots 380, 381, 382, 383, or 384; possibly with J.H.J. Mellaart, London; from who purchased by I.Q. van Regteren Altena in April 1927 for 50 pounds (Inventory book: '297. t. Th. Wijck. Ital. binnenplaats').
Bibliography:
Rotterdam, Museum Boijmans Van Beuningen, Paris, Fondation Custodia, and Brussels, Bibliothèque Albert 1er, "Le Cabinet d'un Amateur: Dessins flamands et hollandais des XVIe et XVIIe siècles d'une collection privée d'Amsterdam," 1976-77, no. 159, pl. 72 (catalogue by J. Giltaij).
Amsterdam, Museum Het Rembrandthuis, "Rondom Rembrandt en Titiaan: artistieke relaties tussen Amsterdam en Venetië in prent em tekening," 1991, no. 64, illustrated p. 145 (catalog entry by B.W. Meijer).
Amsterdam, Amsterdam Museum, "In de ban van Italië: Tekeningen uit een Amsterdamse verzameling," 1995, no. 20 (catalogue by I. Oud, M. Jonker, and M. Schapelhouman).
Notes:
Watermark: Fleur-de-lis in shield, surmounted by crown, over letter "W". (Strasbourg lily).