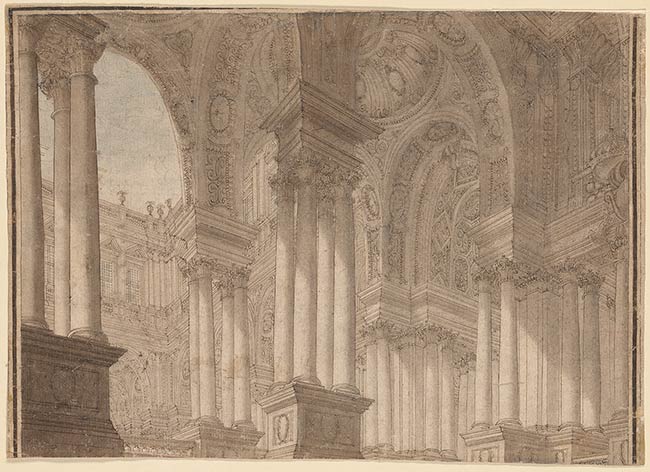 Pen and brown ink, with brown and gray wash, on paper.
8 7/8 x 12 5/8 inches (226 x 320 mm)
Gift of Mrs. Donald M. Oenslager, 1982.
Provenance:
Michael Mayr (1796-1870); Marianne Fajt (d. ca. 1955); Janos Scholz, New York; Donald M. Oenslager.
Bibliography:
Donald Oenslager. Stage design : four centuries of scenic invention. New York : The Viking Press, 1975, no. 37, repr.
Donald Oenslager. Four Centuries of Scenic Invention : Drawings from the Collection of Donald Oenslager. Washington, D.C. : International Exhibitions Foundation, 1974, no. 20, repr.
Notes:
Although now attributed to Carlo Bibiena, the work was previously catalogued as the work of Giuseppe Galli Bibiena. Ricci 1915 publishes a copy of the drawing then in the Pogliaghi collection in Milan.
Associated names:
Galli Bibiena, Giuseppe, 1695-1757, Formerly attributed to.
Mayr, Michael, 1796-1870, former owner.
Fájt, Marianne, -approximately 1955, former owner.
Scholz, János, former owner.
Oenslager, Donald, 1902-1975, former owner.