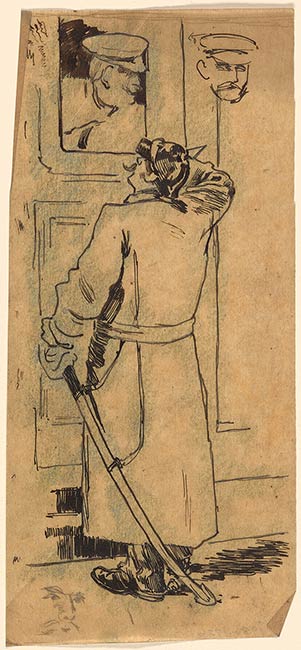 Traced Sketch of a Soldier in Pith Helmet Saluting an Officer
Pen and black ink and blue pencil over graphite, on tracing paper.
8 1/4 x 3 3/4 inches (209 x 96 mm)
Bequest of Gordon N. Ray, 1987.
Provenance:
From the library of Gordon N. Ray.
Notes:
Title devised by cataloger.
Drawing probably intended as an illustration or cartoon for an unidentified publication.
See 1986.1727 (recto) for a sketch of the same subject on cardstock.
Summary:
Drawing shows a soldier standing from the back in a spiked pith helmet, sword at his side, in front of a ship or train cabin door, saluting an officer who leans from the upper window.