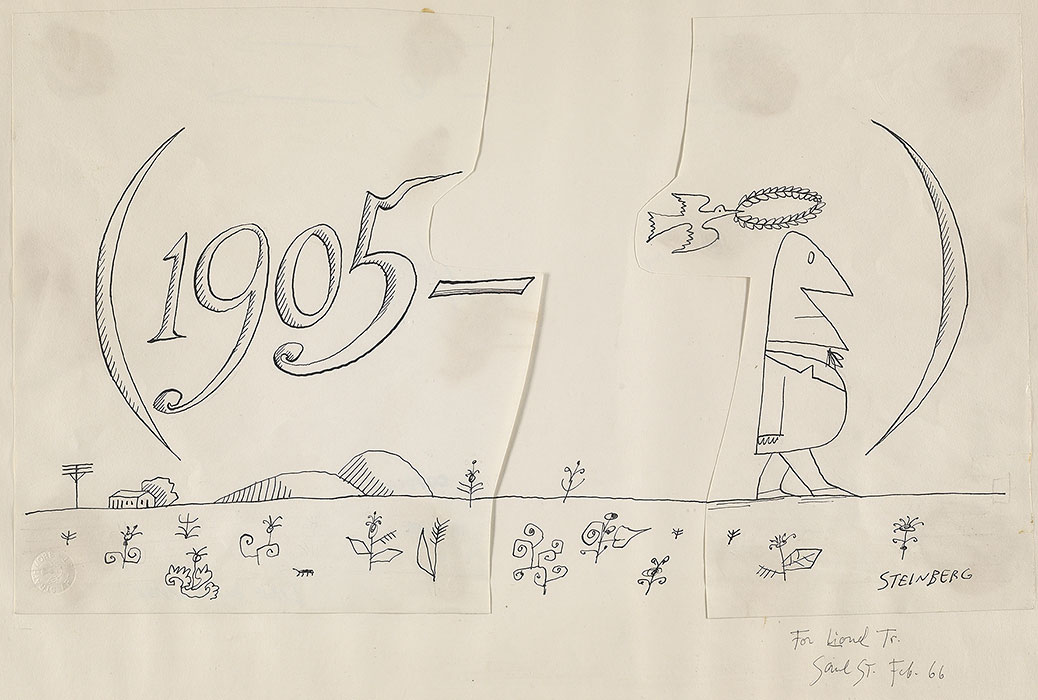 Ink, graphite pencil and collage on paper.
14 1/2 x 23 inches (368 x 584 mm)
Gift of Regina and Lawrence Dubin, M.D.
Inscription:
Signed in ink on top sheet at lower right: STEINBERG; dedicated, signed and dated on other sheet at lower right: For Lionel Tr. / Saul St. Feb. 66.
Provenance:
Acquired from the artist by Lionel Trilling; Collection of Mrs. Lionel Trilling; Regina and Lawrence Dubin.
Notes:
This drawing was published in its original form in The New Yorker in 1963, then altered and dedicated to the literary critic Lionel Trilling (1905-1975). Steinberg described it as a "portrait of a famous man" who "walks, followed by his birthday and facing his death day." Transforming the simple image into a meditation on fame and mortality, Steinberg added, "That dash hints at his end, eagerly awaited by historians who can thus officially close the parentheses. The essential thing about him, and this is the essence of fame, is that he is between parentheses. He is not free." After the drawing appeared in The New Yorker, Steinberg expanded the distance between the dash and the figure by cutting the sheet into two sections, pasting them to a larger sheet, and adding a few motifs in between. In a letter to Trilling (also part of the Dubins' gift to the Morgan), Steinberg explained that he felt "the dash was too menacing, too near the man," and that by adding space he had also "prolonged his life span."