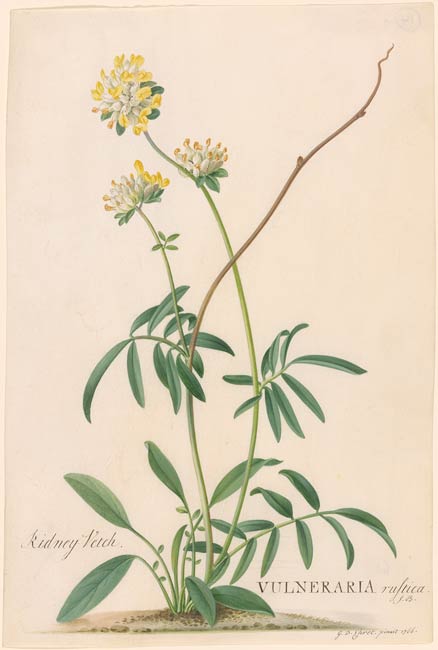 Vulneriara rustica; Anthyllis Vulneraria (Kidney Vetch)
9 15/16 x 6 3/4 inches (253 x 171 mm)
Inscription:
Signed and dated in pen and ink at lower right: G.D. Ehret pinxit / 1766.
Inscribed in pen and ink at lower left and right: Kidney-Vetch / VULNERARIA rustica. / J.B.
Provenance:
Margaret Cavendish Harley Bentinck, Duchess of Portland, Bulstrode, England; her sale, London, Portland Museum, Skinner, 24 April 1786 ff. (to Walker); Mrs. Elizabeth Walker; by descent to John Walker Ford; H. P. Kraus, New York.
Notes:
One of 73 drawings of ferns, flowers, and fungi by Ehret (1978.8:1-73).
Associated names:
Portland, Margaret Cavendish Holles Harley Bentinck, Duchess of, 1715-1785, former owner.
Walker, Elizabeth, former owner.
Ford, John Walker, former owner.
Kraus, Hans Peter, 1907-1988, former owner.