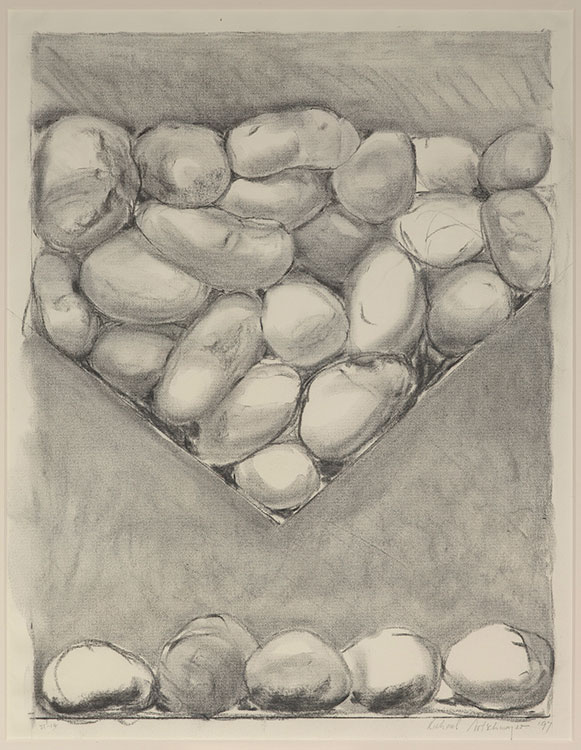 32 3/4 x 25 inches (83.3 x 63.8 cm)
Gift of the Modern and Contemporary Collectors Committee, Gail Monaghan, and David Nolan; and Purchase on the Manley Family Fund.
Provenance:
The artist; Nolan/Eckman Gallery, New York; Collection of Klaus Lauer, Switzerland; David Nolan Gallery, New York.
Notes:
Artschwager began his career as an artist in the late 1950s after pursuing a series of vocations, including carpentry and furniture design. He studied at Amédée Ozenfant's School of Fine Arts in New York on the GI Bill (1949-50). "We had already been to war, we were grown-ups. ... just starting off and deciding in my twenties to go into art. It was really a plunge," he said. Artschwager gained renown in the 1960s for sculptures and paintings that incorporate surface materials and textures drawn from the world of industrial design, such as wood veneer, Formica, and Celotex, which he referred to as "paper on a grand scale." He began to engage with drawing in earnest in the late 1960s, never committing to a signature style or subject. This drawing belongs to a group of untitled potato drawings produced in the late 1990s through the early 2000s. Artist and critic Alexi Worth notes their sardonic quality: "a poor man's pantry for rich folks' walls." The humble potato has precedents in art history, from Van Gogh's Potato Eaters to Claes Oldenburg's baked potatoes (Artschwager worked as a carpenter for Oldenburg in the early 1960s). The subject may also relate to Artschwager's father, a scientist who wrote a doctoral thesis on "the definitive anatomy of the potato."