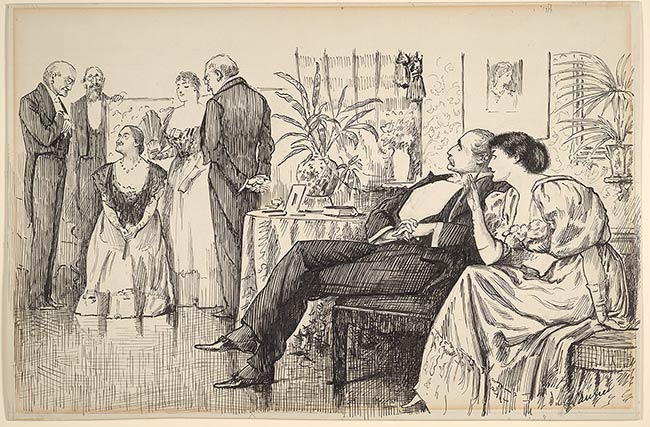 Pen and black ink over graphite, on paper.
9 1/2 x 14 7/16 inches (241 x 367 mm)
Bequest of Gordon N. Ray, 1987.
Inscription:
With the artist's signature at lower right; various inscriptions in pencil on verso, including instructions to the printer, the name "Cotton Minchin Esq." at upper left, and a note with the cartoon caption and a citation at left reading, "P. from Punch vol. 3 (p. 441)" (presumably "Pictures from Punch", one of many published compilations of collected cartoons selected from that periodical).
Provenance:
From the library of Gordon N. Ray.
Bibliography:
Ray, Gordon N. The illustrator and the book in England from 179-1914. New York : Oxford University Press, 1976, p. 126, reproduced p. 125.
Notes:
Title from Ray and published caption.
Cartoon caption continues: He. "That's Mrs. Grimshaw, who lectures on bimetallism. I've heard her. How exasperatingly clever she seems to be!" She. "Yes--but how consolingly ugly!".
Drawing by George Du Maurier for a cartoon for Punch, 1895, v. 108, p. 90.
Summary:
Drawing shows a seated man and woman conversing in the foreground at right, as a group of three men and a lady stand around a striking homely woman who is seated in a chair at left.
Associated names:
Ray, Gordon Norton, 1915-1986, former owner.