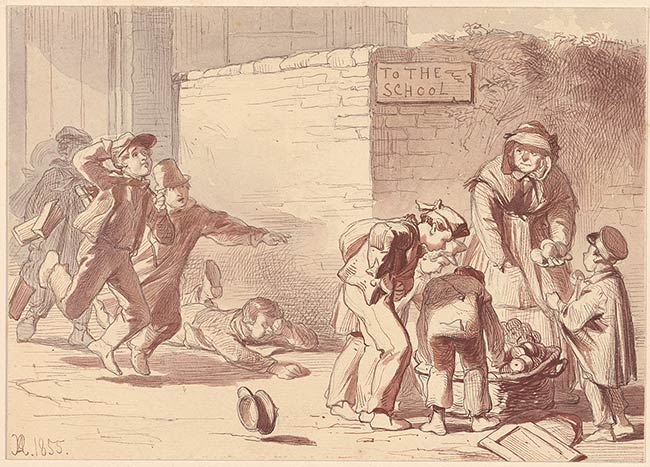 Make Hay While the Sun Shines
Pen and brown ink and wash over graphite, on paper.
5 x 7 inches (126 x 178 mm); mounted on sheet: 13 15/16 x 10 3/16 inches (354 x 259 mm)
Bequest of Gordon N. Ray, 1987.
Inscription:
Dated "1855", with the artist's monogram at lower left.
Provenance:
From the library of Gordon N. Ray.
Notes:
Title from accompanying cover sheet.
Forms part of the portfolio of 11 drawings entitled, "Proverbs and Sayings Illustrated by Members of the Crayon Club", dated 1855 (see 1986.2105).
Summary:
Drawing shows an old woman at right selling apples to school boys from a large basket; on the brick wall behind her a sign reads "To the School", and a group of boys at left are rushing to purchase the apple vendor's wares; one of them has tripped and lies on the ground, with his hat rolling into the foreground.