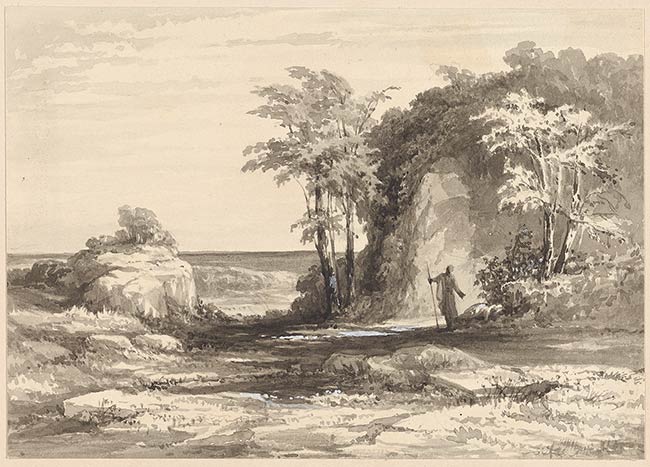 Thou art Inclin'd to Sleep; 'tis a Good dulness, and Give it Way
Brush and black ink and wash, touched with white, on paper.
4 15/16 x 6 15/16 inches (125 x 176 mm); mounted on sheet: 14 x 10 1/16 inches (355 x 255 mm)
Bequest of Gordon N. Ray, 1987.
Provenance:
From the library of Gordon N. Ray.
Notes:
Title and attribution from accompanying cover sheet.
Drawing illustrates a passage from Act 1, Scene 2 of Shakespeare's "The tempest".
Forms part of the portfolio of 11 drawings entitled, "Shreds from Shakespeare Illustrated by Members of the Crayon Club", dated 1854 (see 1986.2104).
Summary:
Drawing shows Prospero charming Miranda to sleep on a rocky shore.
Associated names:
Ray, Gordon Norton, 1915-1986, former owner.