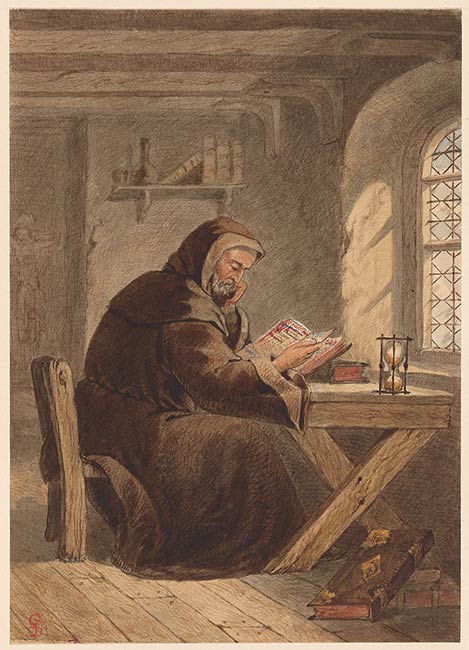 He that Would Know What Shall be, Must Consider What hath Been
Watercolor over graphite, on paper.
7 x 5 inches (178 x 126 mm); mounted on sheet: 13 15/16 x 10 3/16 inches (354 x 259 mm)
Bequest of Gordon N. Ray, 1987.
Inscription:
Signed with the artist's monogram at lower left.
Provenance:
From the library of Gordon N. Ray.
Notes:
Title and attribution from accompanying cover sheet.
Forms part of the portfolio of 11 drawings entitled, "Proverbs and Sayings Illustrated by Members of the Crayon Club", dated 1855 (see 1986.2105).
Summary:
Drawing shows a robed and bearded monk or scholar seated at a wooden table by a leaded window, reading an illuminated volume. Two other books sit on the floor at right, and there is an hour glass on the table before him.
Associated names:
Ray, Gordon Norton, 1915-1986, former owner.