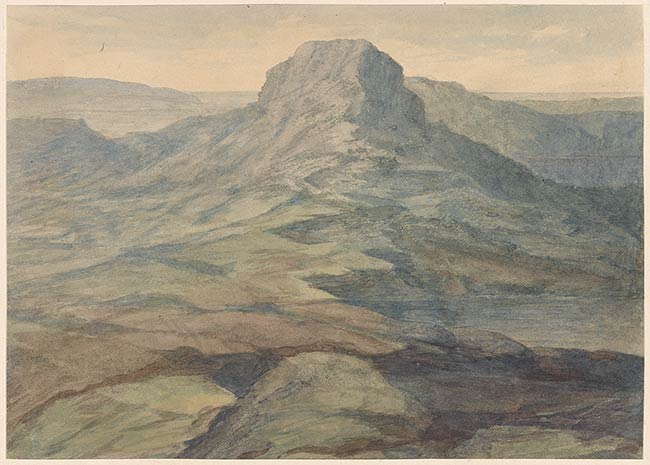 These High Wild Hills, and Rough Uneven Ways
4 15/16 x 6 7/8 inches (126 x 175 mm); mounted on sheet: 14 x 10 1/16 inches (355 x 255 mm)
Bequest of Gordon N. Ray, 1987.
Provenance:
From the library of Gordon N. Ray.
Bibliography:
Ray, Gordon N. The illustrator and the book in England from 179-1914. New York : Oxford University Press, 1976, p. 92.
Notes:
Title and attribution from accompanying cover sheet.
Drawing illustrates a passage from Act 2, Scene 3 of Shakespeare's "King Richard II".
Forms part of the portfolio of 11 drawings entitled, "Shreds from Shakespeare Illustrated by Members of the Crayon Club", dated 1854 (see 1986.2104).
Summary:
Drawing shows a barren and rocky landscape.
Associated names:
Ray, Gordon Norton, 1915-1986, former owner.