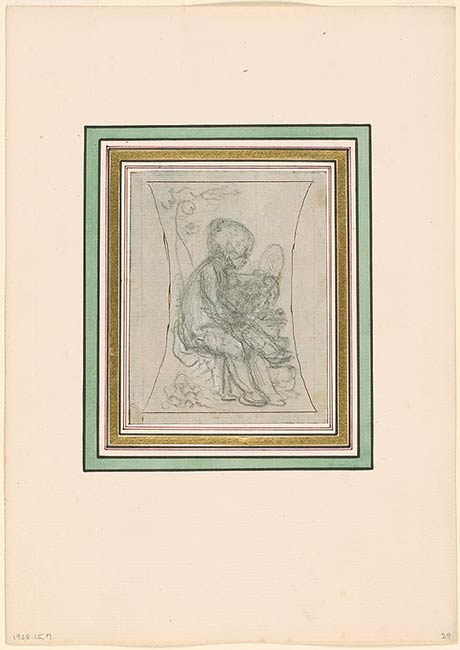 Seated Putto Holding a Mirror
Black and white chalk, pen and brown ink, on paper; incised with the stylus.
4 3/8 x 3 7/16 inches (111 x 88 mm)
Provenance:
Marie-Joseph-Colombe-Henri-Denis Beccaria de Pavie, Marquis de Fourquevaux (1762-1841), Fourquevaux, France; Emmanuel Bocher (1835-1919), Paris; Léon Olry-Roederer (1869-1932), Paris; A.S.W. Rosenbach (1876-1952), Philadelphia; John Fleming (1910-1987), New York.
Bibliography:
Kraemer, Ruth S. "Drawings by Gravelot in the Morgan Library." Master drawings, XX (Spring 1982), p. 13, no. 48.
Notes:
Gravelot's oddly-shaped design with a putto holding a mirror, drawn with extensive pentimenti that make his actions hard to decipher, was probably intended to serve as an illustration although no publication has been identified. Kraemer noted that "The notation in an old hand on the folder in which these four drawings [1968.15:5-8] were acquired, interprets them as 'Pendentifs. Enfants. Statues. La peinture. Le drame. La comedie.' The collector, probably Roederer, must have thought of architectural or sculptural decoration because of the curving lines in pen and brown ink which frame the designs on both sides."
Associated names:
Fourquevaux, Joseph de Beccarie de Pavie, marquis de, 1762-1841, former owner.
Bocher, Emmanuel, 1835-1919, former owner.
Olry-Roederer, Léon, 1869-1932, former owner.
Rosenbach, A. S. W. (Abraham Simon Wolf), 1876-1952, former owner.
Fleming, John F. (John Francis), 1910-1987, former owner.