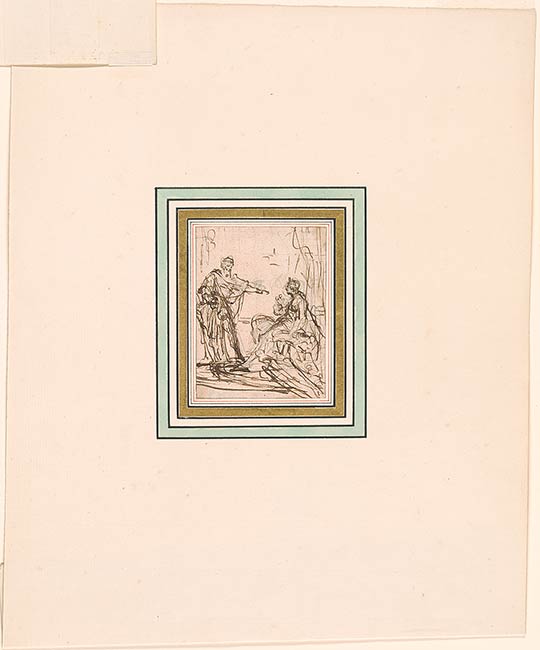 Bearded Male Figure, Standing, Conversing with a Crowned Woman
Pen and brown ink over graphite, on paper.
3 5/8 x 2 3/4 inches (92 x 69 mm)
Provenance:
Marie-Joseph-Colombe-Henri-Denis Beccaria de Pavie, Marquis de Fourquevaux (1762-1841), Fourquevaux, France; Emmanuel Bocher (1835-1919), Paris; Léon Olry-Roederer (1869-1932), Paris; A.S.W. Rosenbach (1876-1952), Philadelphia; John Fleming (1910-1987), New York.
Bibliography:
Kraemer, Ruth S. "Drawings by Gravelot in the Morgan Library." Master drawings, XX (Spring 1982), p. 14, no. 59.
Notes:
Gravelot's drawing, with visible pentimenti, probably was preparatory for a book illustration, although it has not been connected to a publication. A bearded man is shown standing before a seated and crowned woman, at whom he gestures or points with his left hand. This may represent Haman before Esther.
Associated names:
Fourquevaux, Joseph de Beccarie de Pavie, marquis de, 1762-1841, former owner.
Bocher, Emmanuel, 1835-1919, former owner.
Olry-Roederer, Léon, 1869-1932, former owner.
Rosenbach, A. S. W. (Abraham Simon Wolf), 1876-1952, former owner.
Fleming, John F. (John Francis), 1910-1987, former owner.