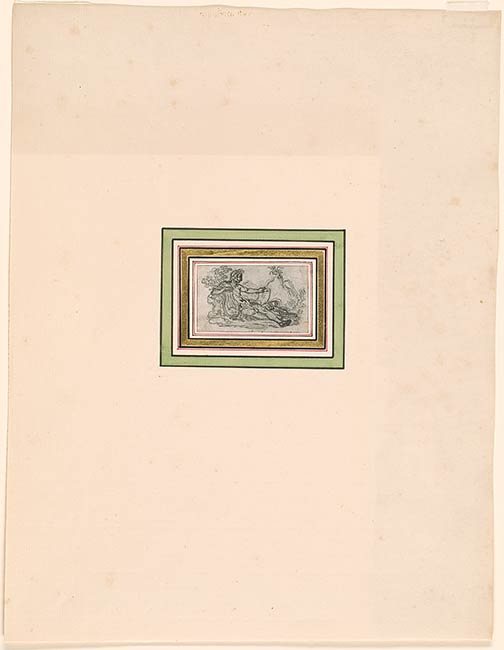 Apollo Seated Holding Lyre and Scroll
Pen and black ink over graphite, on paper.
1 1/2 x 2 1/2 inches (38 x 64 mm)
Provenance:
Marie-Joseph-Colombe-Henri-Denis Beccaria de Pavie, Marquis de Fourquevaux (1762-1841), Fourquevaux, France; Emmanuel Bocher (1835-1919), Paris; Léon Olry-Roederer (1869-1932), Paris; A.S.W. Rosenbach (1876-1952), Philadelphia; John Fleming (1910-1987), New York.
Bibliography:
Kraemer, Ruth S. "Drawings by Gravelot in the Morgan Library." Master drawings, XX (Spring 1982), p. 11, no. 33.
Notes:
Gravelot's tiny design is for a small engraved title page vignette for Volume I of A.M. Blin de Sainmore's "Élite des Poésies Fugitives", a work of erotic French poetry (London and Paris : 1769-1770). The Morgan preserves a second preparatory sketch for this publication (Acc. No. 1963.13:4). Both drawings were engraved for the volume by Benoit Louis Prevost (ca.1735-ca. 1804).
Associated names:
Fourquevaux, Joseph de Beccarie de Pavie, marquis de, 1762-1841, former owner.
Bocher, Emmanuel, 1835-1919, former owner.
Olry-Roederer, Léon, 1869-1932, former owner.
Rosenbach, A. S. W. (Abraham Simon Wolf), 1876-1952, former owner.
Fleming, John F. (John Francis), 1910-1987, former owner.