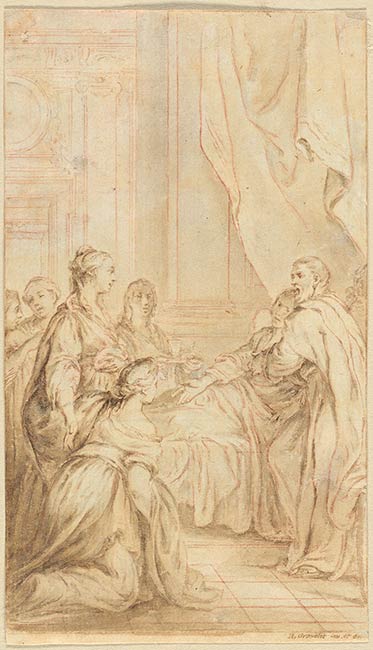 Brown ink over red chalk, on paper.
5 7/16 x 3 1/8 inches (138 x 79 mm)
Bequest of Gordon N. Ray, 1987.
Inscription:
Drawing signed at lower right, "H. Gravelot inv. et delin."
Provenance:
From the library of Gordon N. Ray.
Notes:
Title from published caption.
Gravelot's design is preparatory for an illustration to Charles Rollin's "The ancient history of the Egyptians, Carthaginians, Assyrians, Babylonians, Medes and Persians, Macedonians, and Grecians" (first published in London: Knapton, 1738-1740). The scene shows an interior with Erasistratos (or Seleucus I?) at right, pointing to Antiochus lying sick in bed while addressing queen Stratonice, who stands on the right with her servants.
Associated names:
Ray, Gordon Norton, 1915-1986, former owner.