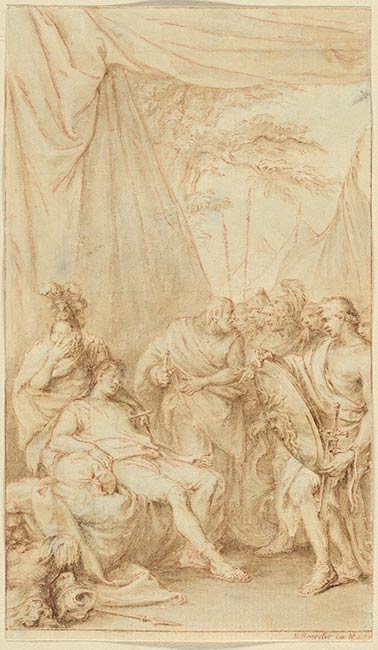 Brown ink over red chalk, on paper.
5 3/8 x 3 1/8 inches (137 x 79 mm)
Bequest of Gordon N. Ray, 1987.
Inscription:
Drawing signed at lower right, "H. Gravelot inv. et delin."
Provenance:
From the library of Gordon N. Ray.
Notes:
Gravelot's design is preparatory for an illustration to Charles Rollin's "The ancient history of the Egyptians, Carthaginians, Assyrians, Babylonians, Medes and Persians, Macedonians, and Grecians" (first published in London: Knapton, 1738-1740).The wounded Epaminondas is shown seated at right, supported by a grieving soldier, at left a man carries a shield and a sword. A group of soldiers anxiously observe the scene.
Associated names:
Ray, Gordon Norton, 1915-1986, former owner.