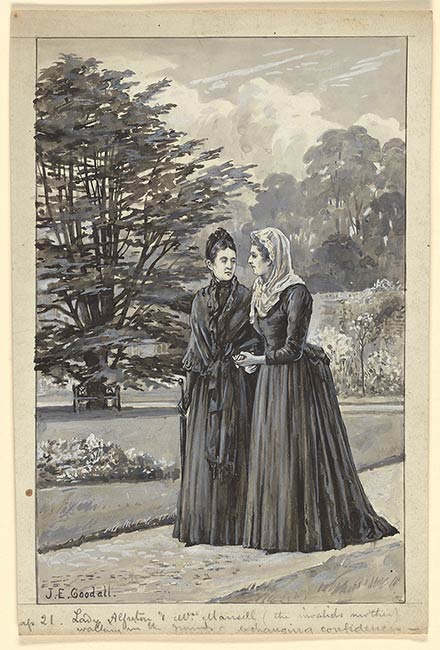 Lady Alfreton and Mrs. Mansell (the Invalid's Mother) Walking in the Grounds, Exchanging Confidences
Black ink wash with white, on cardstock.
6 7/8 x 4 1/2 inches (175 x 115 mm); on sheet: 7 9/16 x 5 1/8 inches (193 x 130 mm)
Bequest of Gordon N. Ray, 1987.
Inscription:
Caption title inscribed in pencil below drawing; inscribed in pencil in lower left hand corner: Chap 21 [i.e. chapter 22].
Provenance:
From the library of Gordon N. Ray.
Notes:
Title from item; signed "J.E. Goodall" within drawing at lower left.
Published caption title reads: "I could scarcely believe my eyes when I saw her and the widow walking backwards and forwards, hand in hand."
Original drawing for an illustration for Lucy Bethia Walford's "A sage of sixteen" (London : Spencer Blackett & Hallam, 1889, p. 240 (facing)).
Accompanying folder incorrectly identifies John Goodall's drawings as illustrations for Emily S. Elliott's "Mrs. Blackett: her story."
Summary:
Illustration shows Lady Alfreton and Mrs. Mansell walking hand in hand.
Associated names:
Ray, Gordon Norton, 1915-1986, former owner.