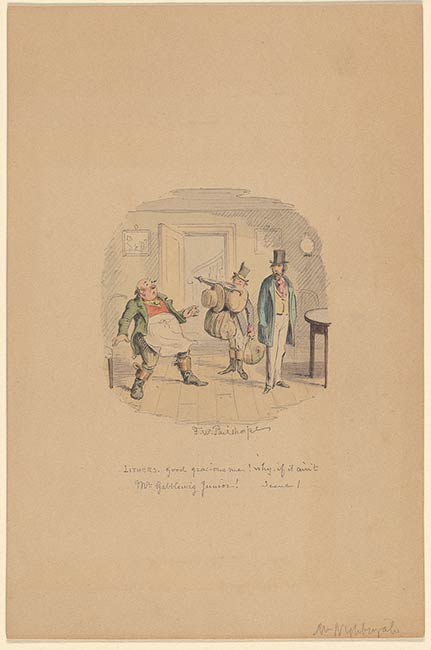 Watercolor with pen and gray ink, on paper.
2 9/16 x 2 7/16 inches (65 x 63 mm); on sheet: 6 13/16 x 4 1/2 inches (173 x 114 mm)
Bequest of Gordon N. Ray, 1987.
Inscription:
Signature in ink at foot of design: F.W. Pailthorpe; inscribed in pencil in the lower right hand corner of sheet: Mr Nightingale.
Provenance:
From the library of Gordon N. Ray.
Notes:
Caption reads: Lithers. Good gracious me! Why, if it ain't Mr. Gabblewig Junior! Scene 1.
Original watercolor drawing for a frontispiece illustration for the farce, "Mr. Nightingale's diary" by Charles Dickens and Mark Lemon; evidently drawn and etched by the artist for an edition of 1877 (Boston : James R. Osgood, 1877), with the etched frontispiece by Pailthorpe sold separately and therefore not present in all copies of this publication.
Summary:
Drawing shows Mr. Lithers, clad in an apron, starting in surprise at the figure of Mr. Gabblewig, who has entered the room with Tip, who stands behind him with his arms full of baggage.