Gentleman said Don Quixote, do I look like an innkeeper. Verso: Don Quixote Standing on the Back of Rosinante
8 15/16 x 6 15/16 inches (228 x 177 mm)
Bequest of Gordon N. Ray, 1987.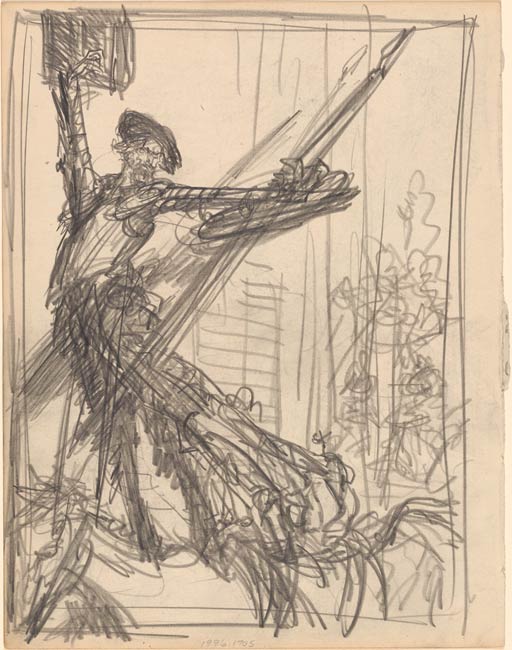 Inscription:
Inscribed at top on recto: Gentleman said Don Quixote, do I look like an innkeeper. Doré, p. 264.
Provenance:
From the library of Gordon N. Ray.
Notes:
Title of recto from item; title of verso devised by cataloger.
Preliminary sketches by E.J. Sullivan for illustrations for an unpublished edition of Don Quixote.
Summary:
Sketch on recto shows Don Quixote, with his lance and shield, standing on the back of Rosinante beside the outside wall of the inn, and reaching up with one arm to a small, highly placed window; sketch on verso is a variant of the design on verso, showing Don Quixote similarly placed, but looking down from Rosinante's back, striking a theatrical stance, with one arm and one leg raised.