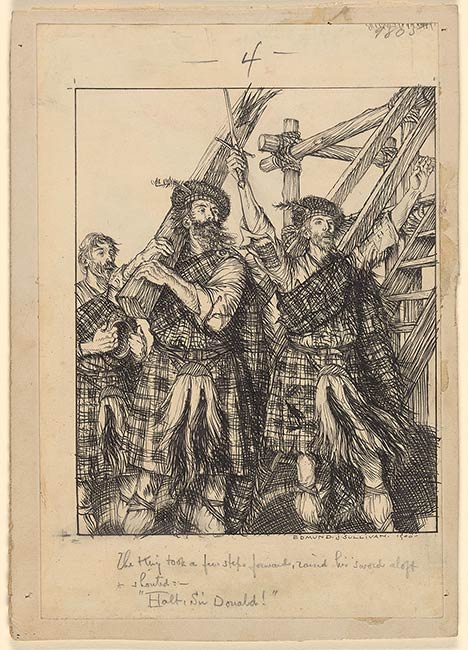 Pen and black ink, on paper, mounted on illustration board.
11 1/4 x 7 15/16 inches (284 x 201 mm)
Bequest of Gordon N. Ray, 1987.
Inscription:
Signed and dated at lower right, "Edmund J. Sullivan. 1900"; captioned in pencil at bottom, "The King took a few steps forward, raised his sword aloft & shouted - "Halt, Sir Donald!"; at head, in pencil, "4"; in pencil on verso, "McClure"; label on verso recording the title of the article, the artist, and publication date (Feb. 1901).
Provenance:
From the library of Gordon N. Ray.
Notes:
Title from published caption.
Original drawing by E.J. Sullivan for an illustration for Robert Barr's short story, "The King a-begging," as it was published with Sullivan's illustrations in the McClure's magazine, v. 16, 1900-1901, p. 315; later published in the author's collected series of short stories featuring the fictionalized adventures of James V Scotland, entitled: A prince of good fellows, London : Chatto & Windus; New York : McClure, Phillips & Co., 1902.
Summary:
Drawing shows three Scotsmen standing at the foot of a scaffold; one carries a log of wood, while the man at his side (King James V in disguise) raises a sword.