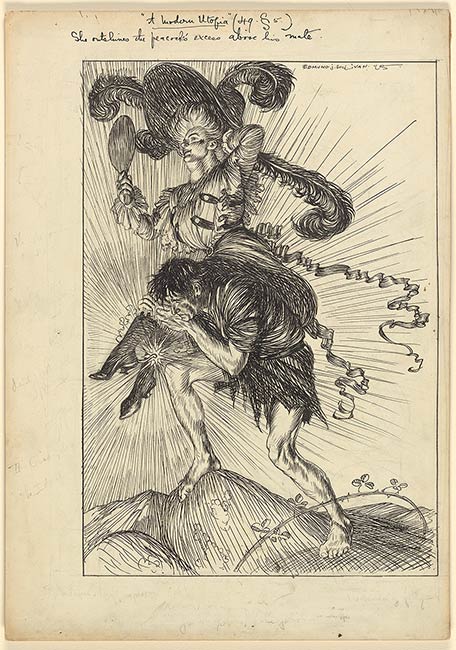 She Outshines the Peacock's Excess Above His Mate
Pen and black ink over graphite, on illustration board.
15 1/8 x 10 11/16 inches (385 x 271 mm)
Bequest of Gordon N. Ray, 1987.
Inscription:
Signed and dated in ink at upper right, "Edmund J. Sullivan. 1905"; at top, "'A Modern Utopia' (49 [section sign] 5) She outshines the peacock's excess above his mate."
Provenance:
From the library of Gordon N. Ray.
Notes:
Title from published volume's list of illustrations.
Original drawing for an illustration for H.G. Wells' "A Modern Utopia," London : Chapman & Hall, 1905, p. 202 (facing).
Summary:
Drawing shows a man clad in a ragged tunic struggling beneath the weight of a woman who sits on his back, gazing at herself in a hand mirror, and lavishly dressed in ribbons, feathers, and frills.