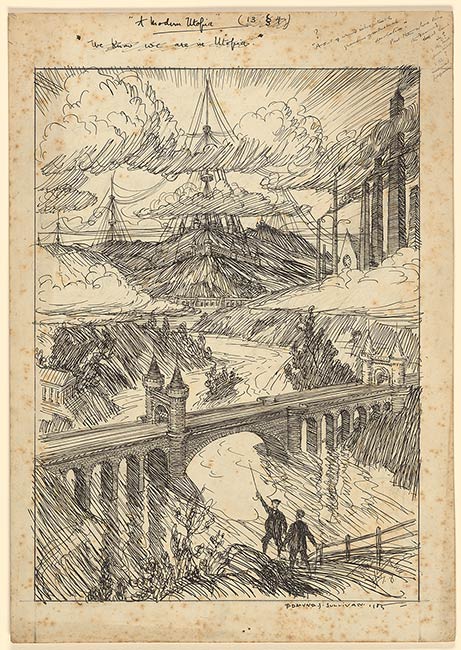 Pen and black ink over graphite, on illustration board.
15 1/8 x 10 11/16 inches (385 x 271 mm)
Bequest of Gordon N. Ray, 1987.
Inscription:
Signed and dated in ink at lower right, "Edmund J. Sullivan. 1905"; at top, "'A Modern Utopia' [proceeded by text struck out in a different ink] (13 [section sign] 4) 'We know we are in Utopia.' [continues in the same ink at right] ? 'A sort of weird inhospitable grandeur of industrial desolation.' But then where does the damned classical[?] come in? & the brick sham bridge? & the medieval fortifications?'"
Provenance:
From the library of Gordon N. Ray.
Notes:
Title from item.
Original drawing, probably intended to serve as an illustration for H.G. Wells' "A Modern Utopia," London : Chapman & Hall, 1905; but evidently not included in the final publication.
Summary:
Drawing shows two men in the foreground of a river valley, with a brick bridge with turreted gatehouses, and a landscape of smokestacks, medieval fortifications, and numerous electrical wires extending from towers.