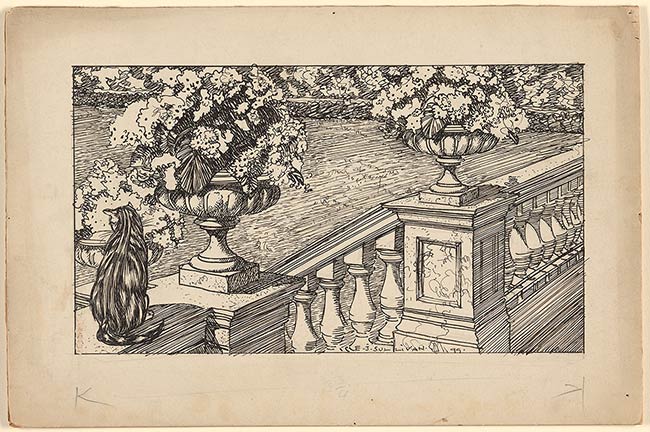 Outdoor Balustrade with Cat and Planted Vases
Pen and black ink over graphite, on illustration board.
8 1/16 x 12 3/16 inches (205 x 310 mm)
Bequest of Gordon N. Ray, 1987.
Inscription:
Signed and dated at lower right, "E.J. Sullivan. 99; marks specifying printed dimensions at bottom.
Provenance:
From the library of Gordon N. Ray.
Notes:
Title supplied by cataloger.
Original drawing for a headpiece illustration for the chapter "Garden kalendar for the 1764," in Gilbert White's The natural history & antiquities of Selborne & A garden kalendar. London : S.T. Freemantle, 1900, v. 1, p. 347.
Summary:
Drawing shows the top of staircase to a patio with outdoor balustrade, two large planted vases flanking the head of the stairs, and a cat sitting on the stone balustrade in the foreground.