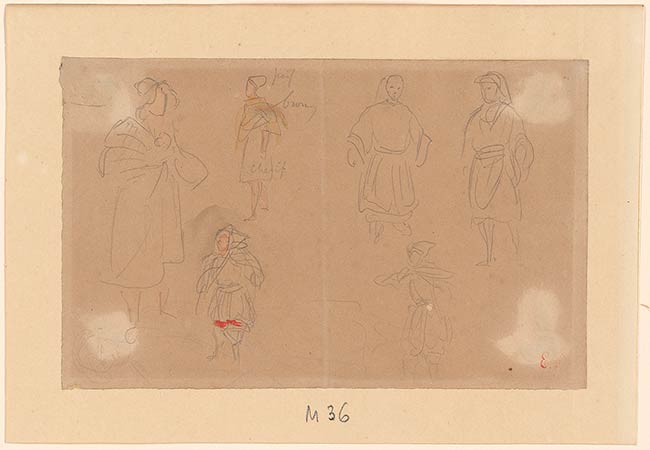 Six figures (Moroccan Sketchbook, M36)
Pencil with slight touches of watercolor on paper.
5 x 8 inches (127 x 203 mm)
Inscription:
Atelier stamp in red ink on each sheet (Lugt S. 838a).
Provenance:
Delacroix estate sale, Paris, F. Petit and Tedesco, 17-29 February 1864, one of seven albums in lot 663 (Voyage au Maroc et en Espagne); Baron Joseph Raphael Vitta (1860-1942), Paris and Le Breuil; his collection dispersed before 1935; acquired from Robert Langton Douglas (1864-1951), New York, in 1940.
Notes:
The Moroccan sketchbook (originally 54 sheets of drawings) was made by Delacroix during his journey to Morocco in 1832. The sketchbook had already been dismembered when it entered the Library's collection in 1940. The drawings are mounted 1 to 4 on a mat, on twenty-nine cardboard mats.
Matted with A36.
Drawing 22 / 12b from original curatorial list.
Associated names:
Vitta, Joseph, 1860-1942, former owner.
Douglas, R. Langton (Robert Langton), 1864-1951, former owner.