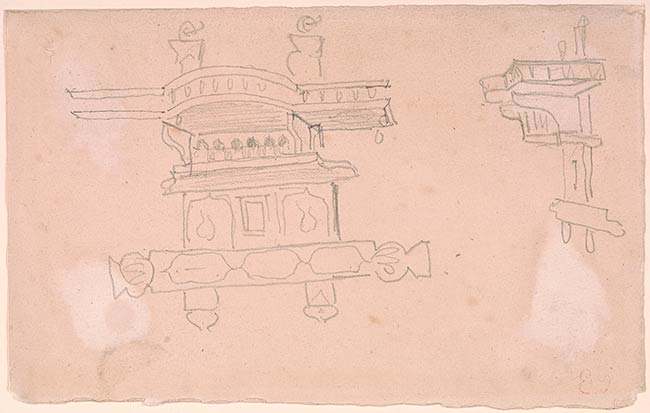 Ornamental detail of wall with gallery or balcony
3 7/8 x 6 3/16 inches (99 x 156 mm)
Inscription:
Atelier stamp in red ink on each sheet (Lugt S. 838a).
Provenance:
The artist's studio; Delacroix estate sale, Paris, F. Petit and Tedesco, 17-29 February 1864, presumably along with seven albums in lot 663 (Voyage au Maroc et en Espagne); Baron Joseph Raphael Vitta (1860-1942), Paris and Le Breuil; his gift to Jean (Stewart) Langton Douglas (1901-1985), in 1936 (according to a note made during her 1962 visit to the Morgan); purchased from Robert Langton Douglas (1864-1951), New York, in 1940.
Notes:
In 1830, France invaded and occupied Algiers and the surrounding coastal communities in Algeria, which was an Ottoman regency. The French monarch Louis- Philippe, wanting to secure a relationship with Algeria's neighbors, sent an embassy to the Moroccan Sultan Moulay Abd er-Rhaman (1778-1859). Diplomat Charles-Edgar de Mornay led the group, and Delacroix was invited to join the expedition. On January 4, 1832, the delegation traveled via Toulon to Algeciras, Spain, crossing the Strait of Gibraltar to disembark in Tangier on January 25, 1832. In March, they continued to Meknes to meet with the sultan. They would return to Tangier, and make one more visit to Meknes in April, before setting out for Cadiz and Seville in May, reaching Toulon in July on their route back to Paris.
During this trip, Delacroix kept a journal recording his experiences in the evening. He also made sketches in at least seven notebooks and on many loose sheets, which he retained for the rest of his life. Two of these sketchbooks are now in the Louvre, Paris, and one is in the Musée Condé, Chantilly. While it is tempting to assume that the Morgan's fifty-four sheets are from a disbound sketchbook, all bear the mark of the artist's estate, indicating that they were loose in the studio. As Agnes Mongan first argued, since the sheets are not consistent in size and the paper support is a mix of laid and wove sheets, the group likely comprises half and quarter sheets, folded and cut from the stock of drawing paper Delacroix brought with him.
The drawings in the Morgan's cache reveal Delacroix gathering raw material - quick impressions, often annotated - as the artist absorbed and responded to the unfamiliar and visually stimulating surroundings. Many sketches were executed surreptitiously given the general prohibition on figurative art and the tension surrounding the presence of the French, who were accompanied by an armed guard, which made the artist an object of curiosity and a recipient of hostile attention.
Matted with III, 124a.21 and III, 124a.22
Associated names:
Vitta, Joseph, 1860-1942, former owner.
Douglas, R. Langton (Robert Langton), 1864-1951, former owner.