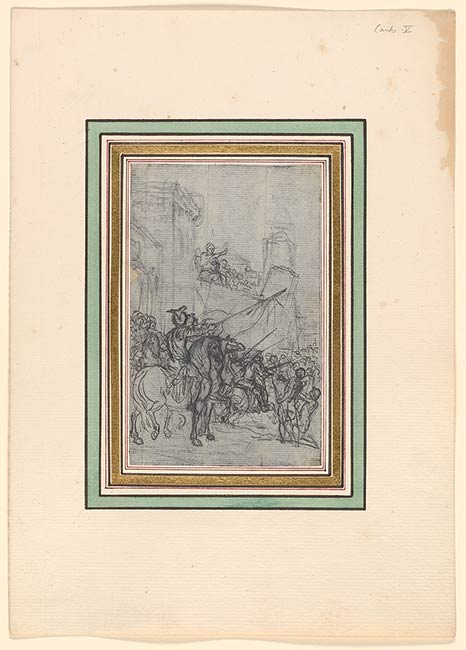 Preliminary Drawing for Canto V of Alessandro Tassoni's "Secchia rapita"
Pen and ink and pencil on paper, mounted on paper backing.
5 5/16 x 3 3/8 inches (135 x 86 mm)
Bequest of Gordon N. Ray, 1987.
Provenance:
From the library of Gordon N. Ray.
Bibliography:
Kraemer, Ruth S. "Drawings by Gravelot for Alessandro Tassoni's mock-heroic poem La secchia rapita." Master drawings, XXVIII (Autumn 1990), p. 338-343, no. 9.
Notes:
Gravelot's design is preparatory for an illustration to Canto V of an edition of Alessandro Tassoni's "Secchia rapita" ("The Stolen Bucket"), published in Paris by Lorenzo Prault and Pietro Durand in 1766. Tassoni's mock-heroic poem, originally published in Paris in 1622, blends the construct of an epic with an absurd premise: a 14th century war between Modena and Bologna was actually caused by the Modenese stealing a bucket from Bologna. The corresponding plate appears facing p. 1 of volume 2 in the published work and is captioned "Ma perchè [sic] la man destra avea fasciata, E gli benedicea con la mancina". The scene shows the papal Nuncio blessing the Bolognese and their assembled allies with his left hand.
Associated names:
Ray, Gordon Norton, 1915-1986, former owner.