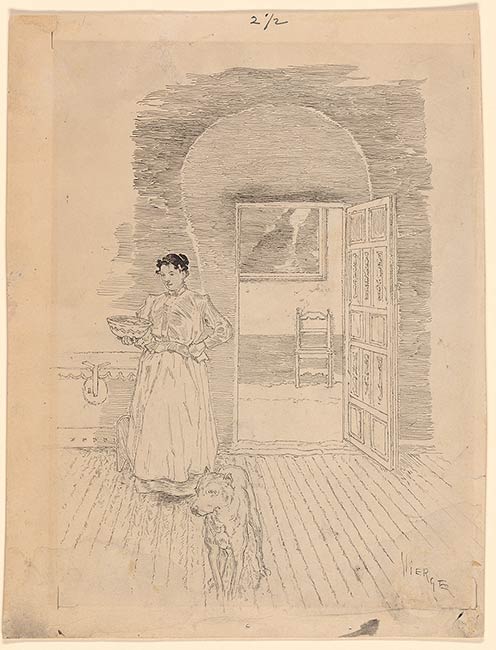 Juana, the other daughter of the "amo" of the Posada, Toboso (Juana, l'autre fille de "l'amo")
Pen and ink and graphite on paper.
8 13/16 x 6 3/4 inches (223 x 172 mm)
Bequest of Gordon N. Ray, 1987.
Inscription:
Signed "Vierge" in ink at lower right; inscribed "2 1/2" in ink at head of drawing; "p. 168" in pencil on verso.
Provenance:
From the library of Gordon N. Ray.
Notes:
French and English titles from the illustration titles published in the New York and Paris editions of of Jaccaci's work.
Drawing by Vierge to illustrate p. 167 of A.F. Jaccaci's On the trail of Don Quixote; later republished in the French edition where it appears on p. 168 of Jaccaci's text, published by Hachette et cie in Paris in 1901 under the title: Au pays de Don Quichotte.
Associated names:
Jaccaci, Augusto Floriano, 1857-1930. On the trail of Don Quixote.
Ray, Gordon Norton, 1915-1986, former owner.