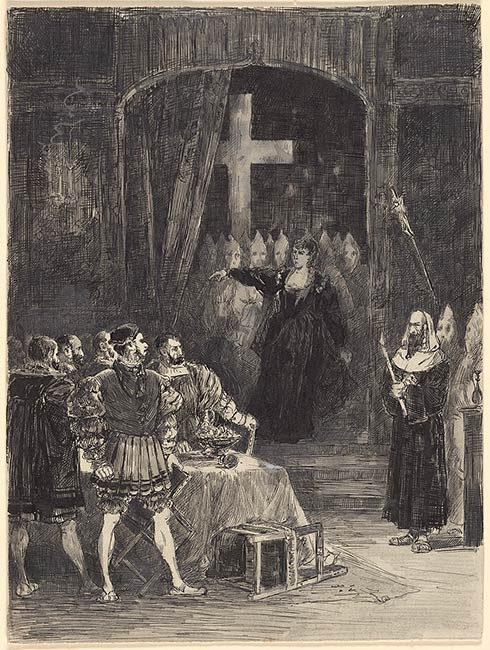 Drawing for Victor Hugo's "Lucrèce Borgia "
Pen-and-ink, wash, and graphite with traces of gouache and China white, on paper.
8 x 5 15/16 inches (203 x 151 mm)
Bequest of Gordon N. Ray, 1987.
Provenance:
From the library of Gordon N. Ray.
Bibliography:
Reproduced in: The art of the French illustrated book, 1700 to 1914 / Gordon N. Ray. New York : Pierpont Morgan Library, 1982, p. 290.
Notes:
Drawing by Nanteuil intended to illustrate act 3, scene ii of Victor Hugo's play Lucrèce Borgia, published in Paris in 1833; the volume appeared with an etched frontispiece after Nanteuil, but this, his second design for Hugo's play, was never published. Cf. Ray.
Summary:
Drawing illustrates the banquet scene from act 3, scene ii of Hugo's "Lucrèce Borgia", set in Negroni Palace in Ferrara, where Lucrecia Borgia, accompanied by a band of hooded penitents, appears before the assembled noblemen to inform them that they have all been poisoned.
Associated names:
Ray, Gordon Norton, 1915-1986, former owner.