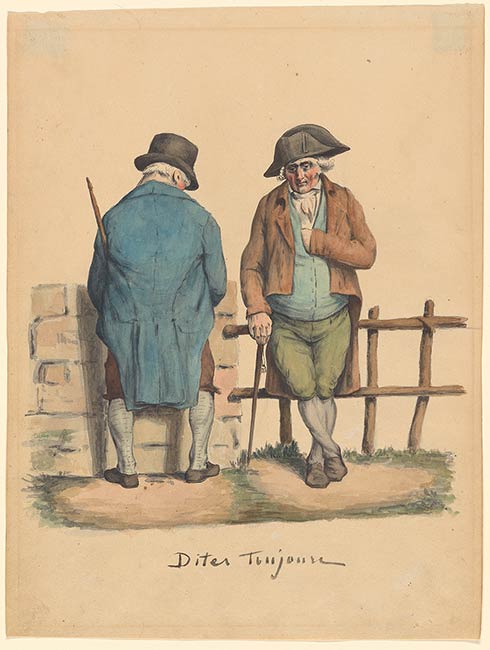 Watercolor with black chalk on paper.
10 7/16 x 7 7/8 inches (266 x 200 mm)
Bequest of Gordon N. Ray, 1987.
Inscription:
Inscribed with a brush in watercolor at foot: Dites toujours.
Provenance:
From the library of Gordon N. Ray.
Notes:
Published caption.
Watercolor drawing by Pigal for a lithograph published as no. 38 of a volume of 50 hand colored lithographic plates printed by Langlumé and issued with the title: Recueil de scènes de société. Paris : Martinet & Gihaut, 1822.
Summary:
Drawing shows two elderly gentlemen standing next to each other; one facing a brick wall, the other leaning against a wooden fence.
Associated names:
Pigal, Edmé Jean, 1798-1872. Recueil de scènes de société. 38.
Ray, Gordon Norton, 1915-1986, former owner.