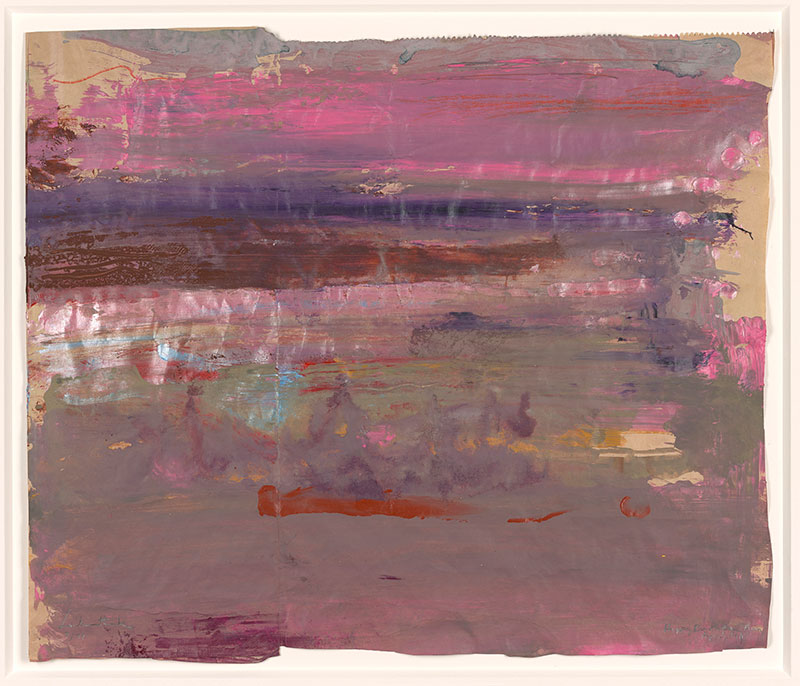 15 1/4 x 17 3/4 inches (387 x 451 mm)
Gift of Ann and Robert L. Freedman in honor of Helen Frankenthaler's eightieth Birthday, December 12, 2008
Inscription:
Signed lower left, "Frankenthaler, 79", Inscribed lower right, "Happy Birthday, Ann / April '79", Inscribed verso in graphite "April 5, 1979;" center of page bottom left, "Mauve Bag."
Provenance:
Gift of the artist to Ann Freedman on her birthday, 5 April 1979.
Notes:
Helen Frankenthaler was one of the first artists to develop the implications of Jackson Pollock's method of pouring paint onto canvas. She became known in the early 1950s for her abstract compositions of floating shapes in soft, transparent colors achieved by applying to canvas the technique of stain painting derived from watercolor. Mauve Bag is characteristic of her works on paper from the 1970s when, having switched from watercolor and oil to acrylic, she introduced richer colors and a new painterliness into her work. A superb colorist, Frankenthaler has been compared to J.M.W.Turner for her luminous palette and sensuous handling of paint.