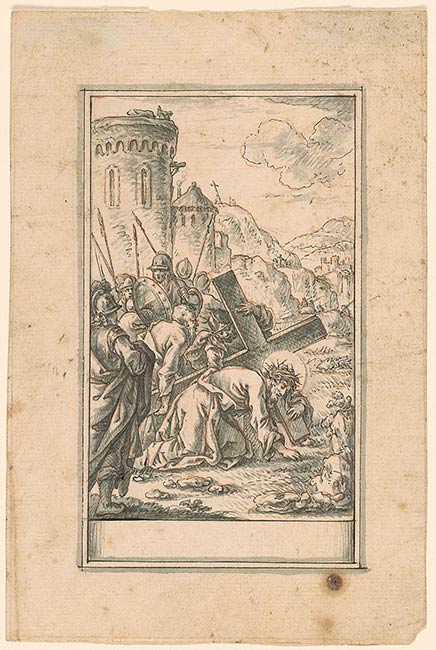 Pen and black ink and wash and red chalk on laid paper.
6 x 4 1/8 inches (152 x 105 mm)
The Joseph F. McCrindle Collection.
Inscription:
Inscribed on verso in graphite, "E9389".
Provenance:
Joseph F. McCrindle, New York (McCrindle collection no. A0478).
Summary:
The present sheet belongs to a series of eleven anonymous German drawings illustrating the Passion of Christ. Five drawings from the series are now in the Morgan's collection.
The drawing depicts Christ's suffering as he carries the cross on the road to Calvary. Scenes of the same subject typically depict Christ's tormentors, sometimes portrayed in an exaggeratedly grotesque manner; however, here Christ's burden instead is prioritized. Christ crawls outside a fortified city, with the mountain on which crucifixions take place rendered subtly in the background.
The drawings in this series are rendered in a frame with a horizontal strip left blank at the lower margin, suggesting the drawings served in preparation for engravings. Each drawing was first composed in red chalk and then retouched in pen and black ink.
Associated names:
McCrindle, Joseph F., former owner.