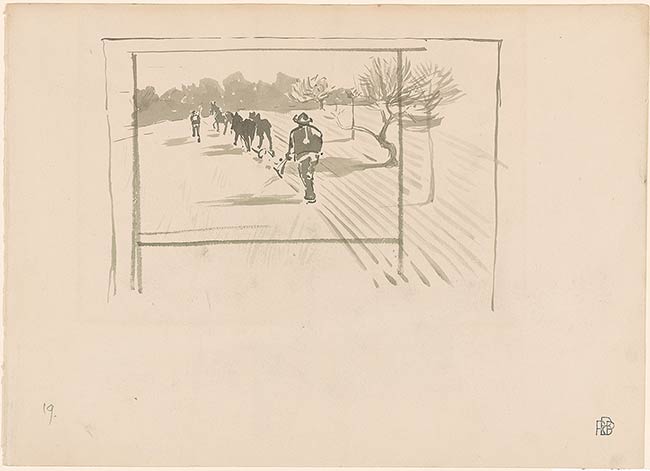 A Plough and Horses. Verso: Horses Grazing
Brush and black ink with gray wash on paper; verso: brush and black ink and gray wash with graphite.
9 13/16 x 13 9/16 inches (250 x 345 mm)
The Joseph F. McCrindle Collection.
Inscription:
Stamped at lower right, in black ink: "RPB".
Provenance:
Davis Galleries, New York; from whom acquired by Joseph F. McCrindle, New York, 20 July 1973 (McCrindle collection no. A0100).
Notes:
Robert Bevan sketched and painted rural subjects at many points over the course of his career, beginning with an extended stay in Brittany from 1890 to 1891. He returned there in the early summer of 1893 and stayed through 1894. The recto of the present sheet appears to be a study for a lithograph or painting, given its doubled compositional frames. On the verso, Bevan sketched two horses grazing, while the subtle trace of a third head appears in the upper register of the sheet. The drawing was not necessarily produced during Bevan's tenure in Brittany, although his study of men working in a field is strikingly similar to other drawings he made during that time, namely Ploughing, ca. 1893 (chalk and watercolor, Duncan R. Miller Fine Arts) and Two Horse Plough, ca. 1894 (chalk and watercolor, New Art Gallery Walsall).