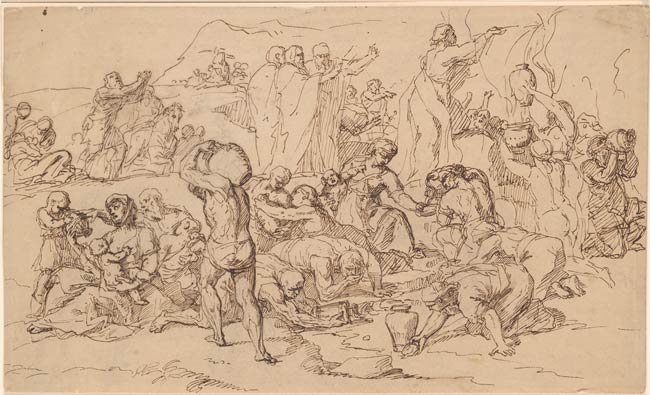 Moses Striking the Rock in the Desert
Pen and brown ink and wash and black chalk on laid paper.
8 15/16 x 14 15/16 inches (227 x 380 mm)
The Joseph F. McCrindle Collection.
Inscription:
Watermark: Fleur-de-lis in shield, surmounted by crown, over letters "WR", (Strasbourg lily), Fragment.
Provenance:
Paul Prouté S.A., Paris; from whom acquired by Joseph F. McCrindle, New York, 23 June 1989 (McCrindle collection no. B0018).
Notes:
Relatively little is known of the seventeenth-century artist Raymond Lafage, and there is no complete monograph of his oeuvre. Lafage is of particular historical interest because he never attained official affiliation with the academies in Rome or Paris but was nonetheless popular for his religious and mythological subjects. This sheet resembles Lafage's manner with the loose, casual cross hatchings in the figures' drapery. Lafage's figures are often bulky, muscular constructions, which reveal his anatomical interests, such as the man carrying the jug of water in the foreground. Lafage's compact construction, frenetic yet assured cross hatching, and general abstract treatment of the background resembles The Brazen Serpent in the Albertina, Vienna (Nathan T. Whitman, "The Religious Drawings of Raymond Lafage," Gazette des Beaux-Arts vol. 48 (July 1956), p. 27, fig. 4). This drawing was likely executed during the artist's time in Rome from 1679-1681, as sheets from this period often display more verve and movement as opposed to the staid classicism of his Parisian period.
Associated names:
McCrindle, Joseph F., former owner.