Suicide. Verso: Conversation
Reed pen and pen and black ink with pencil on paper; verso: pen and black ink and red crayon (perspectival sketch).
9 5/8 x 7 15/16 inches (245 x 201 mm)
The Joseph F. McCrindle Collection.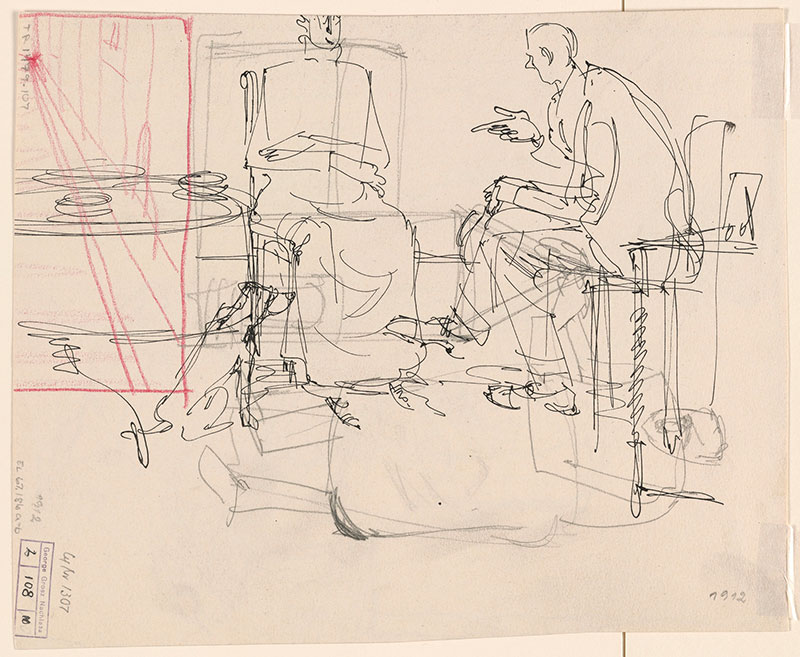 Inscription:
Inscribed in pencil at lower right on verso, "1912"; stamped with the Grosz Estate Stamp (George Grosz Nachlass) on verso at lower left and numbered, "2-108-10".
Provenance:
Princeton Gallery of Fine Art, Princeton, New Jersey; from whom acquired by Joseph F. McCrindle, New York. 26 May 1973 (McCrindle collection no. A1226).
Notes:
In 1912, following his artistic training in Dresden, George Grosz moved to Berlin and soon began working as a caricaturist and illustrator in order to make ends meet. Abandoning the studied formality of his Dresden period, Grosz's early Berlin drawings are rapidly sketched studies out of which urban grotesqueries of lust, greed, and violence emerge. During this time, Grosz was an avid reader of German sensationalist literature, and from 1912-1914 he produced cover illustrations for the popular genre series Fischers Romanbibliothek. "Suicide" is likely a study for the cover of Felix Hallaender's "Sturm im Westen" published in 1913 as part of this series (Jentsch 1997, no. 31, p. 13). In this pen and ink drawing, Grosz presents a raw portrait of suicide, the title character and his derelict surroundings cast in a frenetic scrawl of black ink that evokes the chaotic unraveling of modern German life. Grosz is perhaps best known for his caustic satires of the savagery and decadence of German life following World War I, and this early work stands as a powerful precursor to the artist's later development. Rory O'Dea, 2009 Ralph Jentsch, George Grosz: Berlin-New York (Milan: Skira, 2008); Ralph Jentsch, George Grosz: The Berlin Years (Milan: Electa, 1997).