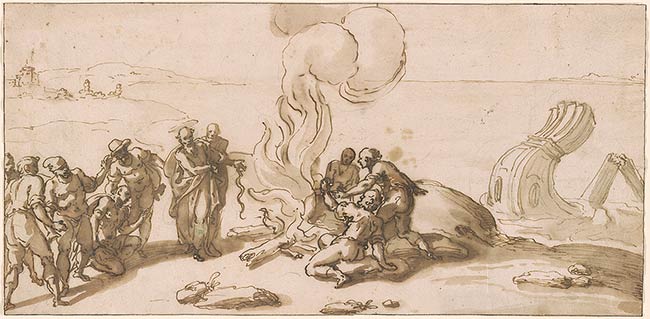 Saint Paul Unharmed by the Bite of a Viper
Pen and brown ink and wash, over black chalk, on laid paper.
7 1/2 x 15 3/8 inches (190 x 390 mm)
The Joseph F. McCrindle Collection.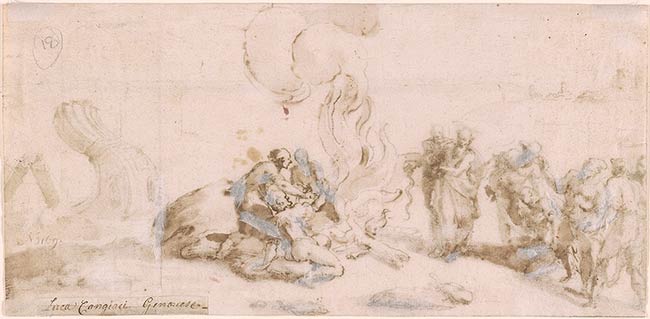 Inscription:
Inscribed on verso at lower left corner in red ink, "N3169"; on verso in pen and brown ink, "Luca Cangiari Genoise"
Provenance:
Joseph F. McCrindle, New York (McCrindle collection no. A1211).
Summary:
Rhoda Eitel-Porter first recognized that this pen and ink drawing with brown wash, formerly given to Luca Cambiaso, is a study by Cesare Nebbia for the Galleria delle Carte Geografiche in the Vatican. According to Baglione, Nebbia assisted Girolamo Muziano (1532-1592) on the decoration of the vault of the Galleria, a project completed by 1580. (Rhoda Eitel-Porter. Der Zeichner un Maler Cesare Nebbia (1536-1614). Münich, 2009.)
The narrative depicted derives from the Acts of the Apostles, XXVIII, 3-6. After being shipwrecked en route to Rome on the island of Malta, Paul and his companions were welcomed by locals who lit a fire to warm them. A viper, hidden amongst wood used for the fire, bit Paul, who shook the serpent off into the fire where it perished. The Maltese recognized Paul's miraculous abilities when he was unharmed from the bite. The episode was celebrated as a parable for Paul's missionary work on Malta.
This drawing served in preparation for a ceiling fresco in the vault of the Galleria delle Carte Geografiche's long corridor. It is one of two works that frame a depiction of Paul healing Publius's father on Malta. While many figures in the sketch closely are followed in the fresco, the boat was moved to the background in the painted version of the scene, emphasizing that it is sinking. Images of locals helping those from the wrecked ship, absent in the sketch, were added to the painting in the vault.