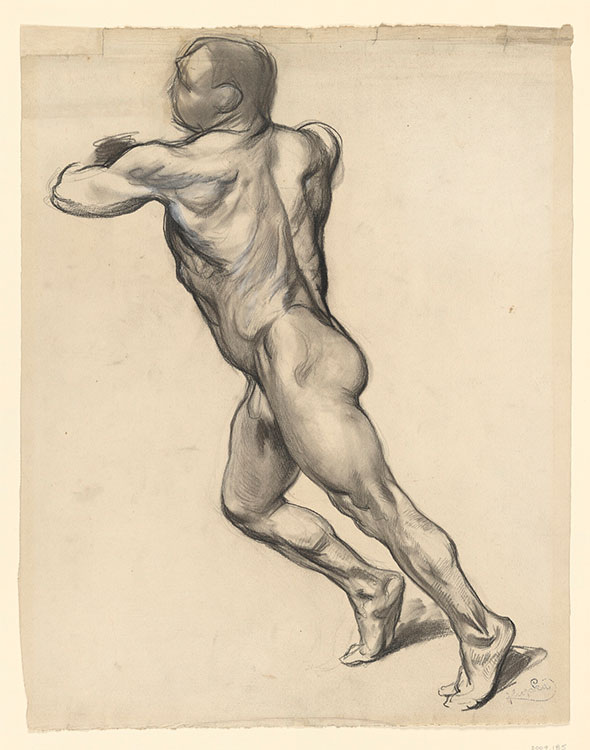 Charcoal and graphite with touches of white chalk on laid paper.
Maximum dimensions: 19 1/16 x 14 15/16 inches (485 x 380 mm)
The Joseph F. McCrindle Collection.
Inscription:
Inscribed at lower right in black chalk, "Kupka".
Provenance:
Lucien Goldschmidt (1912-1992), from whom purchased in 1984 by Joseph F. McCrindle, New York (McCrindle collection no. A0561).
Notes:
Watermark: shield.
Estate Stamp at lower right.
Summary:
The fluid manner in which graphite flows across the page parallels the subject, a man in motion, in this early drawing by František Kupka. Kupka studied from 1889 to 1892 at the Academy of Fine Arts in Prague, during which time he concentrated on painting historical and patriotic themes. Later, at the Academy of Fine Arts in Vienna, he would turn to symbolic and allegorical subjects and work in a naturalistic mode that was influenced by Karl Wilhelm Diefenbach (1851-1913). By the first decade of the twentieth century, he became enthralled with Futurism and abstraction, exibiting in the Cubist room of the Salon des Indépendants in 1912.
The present sheet arguably is from the first stages of Kupka's career before he became preoccupied with abstraction. Faint traces of graphite show the artist changing the desired position of the man's right leg before determining the final composition.